Kaizen Software Releases Asset Manager Web Edition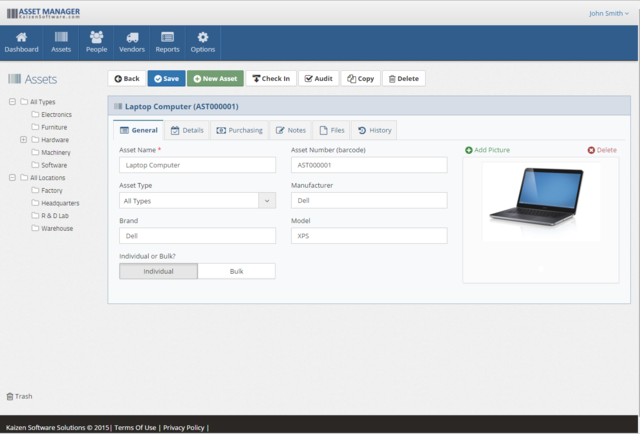 November 4, 2015 - After 11 years of providing Windows software to the business world, Kaizen Software has released their first fully hosted Cloud-based product on the web. In announcing this development, company representative Kevin Sparks remarked:
"While consumer software moved quickly to the cloud, we found many of our business customers were still deeply entrenched in the Windows world. Throughout the period from 2004 through 2011, the inquiries we received about offering a hosted or web-based product came primarily from smaller companies which didn't have a network or resources to support one, or from groups within a company which were more familiar with the consumer side. Meanwhile, most of the IT Departments contacting us were interested in setting up on-premises client-server business applications.
For our customers, a shift in interest regarding "hosted" and "cloud-based" solutions started picking up steam in 2012. More and more customers began inquiring about the "cloud", and we also began to notice the confusion which occurred for those whose main experience was now with web-based solutions as they assumed everything they typed into the program could be easily reached from any computer. For example, customers would receive a new laptop or tablet and dispose of their old computer, and then contact us in confusion about what happened to their data which they could no longer access on their new device.
As the infrastructure for SaaS matured, it became clear in 2014 that it was time to make the move. We selected "Asset Manager" as our first SaaS product for development. While the Windows version will still be available, we anticipate more and more customers moving to the web version to outsource the mundane system administration and backup tasks, and to provide access to a broad variety of devices and operating systems."
Asset Manager Web Edition was released to the public on November 2, 2015. You can find more information about it and sign up for a free trial on their website at:
http://www.kaizensoftware.com