Audio4fun Introduces New Upgrade for Their Leading Voice Changer Software Diamond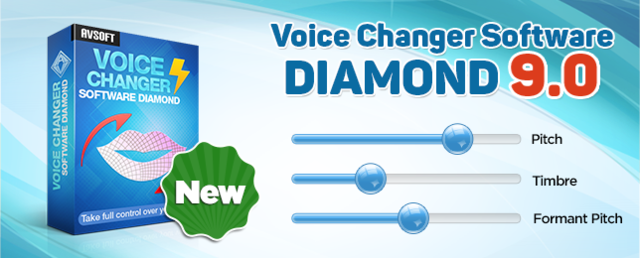 November 11, 2015 - Audio4fun announces the release of the latest version, 9.0, of the leading Voice Changer Software Diamond, which features major changes in both interface design and functionality. The new update gets Voice Changer Software Diamond closer to its mission as a one-stop voice master program that is user-friendly and productive for fun chatting via VoIP programs, or role-playing online games, as well as voice dubbing for audio projects, or modifying any audio file. More information about this program is available at
http://www.audio4fun.com/voice-over.htm
Audio4fun – Voice Changer Software Diamond's producer – believes that the updated version 9.0 will lead users to a better experience with the friendlier GUI and improved performance.
Windows 10 Compatibility: Windows 10 users can now have fun changing their voice without any problem.
Reorganized Voice Morpher: If in the former versions Voice Morpher could be understood as a basic 2-dimentional Pitch-Timbre graph, the new Voice Morpher extends its definition to a complete voice morphing process, includes Voice Attributes, Voice Beautifying, and now with more Advanced Settings.
New Voice Recorder: New clean design make every voice recording task become effortless.
New Voice-over Editor: Provides users the abilities to cut/split/copy, apply effects or perform more essential editing operations on their morphing results to any selected part or the entire file.
Improved File Morpher: Accessible right in the main menu, allows users to save their result outputs in just 1 click.
For additional specification information and a free download of a trial-copy of Voice Changer Software 9.0, visit this page
http://www.audio4fun.com/voice-changer-tour.htm
About Audio4fun:
Throughout many years of development, Audio4fun has been promoting audio and video software technology and specializing in three core areas: Audio and Video Morphing Algorithms, Audio and Video Stream Interception, Audio and Video Real Time Effecting. Its strategic products include Voice Changer Software, Music Morpher, Webcam Morpher and Video Morpher. All the products of Audio4fun are detailed at
www.audio4fun.com
. Since 2006, Audio4fun has been extending their business model to encompass Internet users who want a richer social networking experience. See
www.audio4fun.com
for more details.