Plan the Ultimate Party Experience for Your Son or Daughter with Help from Kid Junction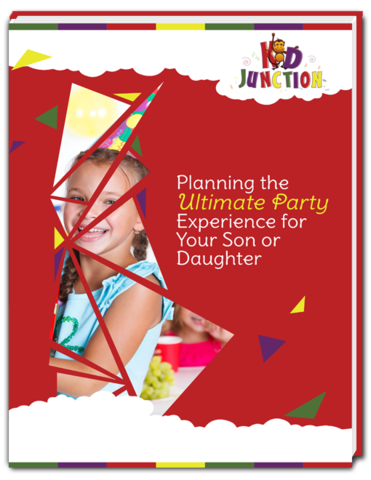 November 13, 2015 - Planning the ultimate party for your son or daughter's special moments can leave you under a lot of stress. Minimize your mistakes and start on your way to stress-free party planning with help from Kid Junction.
At Kid Junction's indoor playground, hosting a party becomes easier than ever – hitting all the benchmarks of the ultimate party experience. Indoor playplaces provide all kinds of things that kids already love to do, making them the perfect party venue to keep your children and their friends entertained for hours on end.
Of course, planning your party will take some work. If you choose an indoor playplace, you may want to think of ways to incorporate your own theme into the mix. Many indoor playgrounds will offer you special party rooms to station your festivities. Think of something your son or daughter likes, and create a theme that focuses on bringing those interests to life.
Once you have your location settled and a theme in mind, it's time to make the guest list. Sit down with your son or daughter and make sure that all of their closest friends are included and send out your invitations at least two weeks in advance. If you're planning on serving any food, check with parents for any allergies that you need to know about.
After the invitations are sent out, it's time to come up with some sort of itinerary for your child's party. Depending on the size of your party and the indoor playground itself, you may want to keep the schedule loose to give everyone plenty of time to explore all the fun and games the playplace has to offer. Just make sure you are able to gather everyone when it's time for food, presents, and cake.
Without a doubt, the best part of planning your party at an indoor playplace is the stress-free party planning packages. Sit back, relax and let the professionals take care of all the little details as you give your child the ultimate party experience with minimal hassle on your end.
If you're planning a party for your son or daughter in the next few months, make certain it's a hit with help from the Party Pros at Kid Junction and download their free guide to planning the ultimate party experience by visiting
http://kidjunction.com/offers/
.
The perfect party isn't far from reach when you work alongside the pros at Kid Junction. Our huge indoor playground features all the fun and games that kids love, allowing them ample opportunity to explore their imagination and creativity. Discover all of what's in store when you bring your son or daughter to Kid Junction by visiting
kidjunction.com
.