Discover the Advantages of Cloud Infrastructure from JENLOR Integrations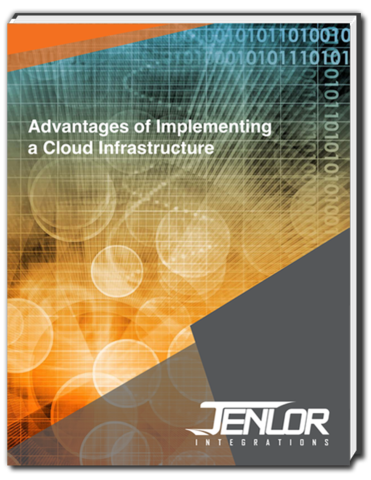 November 14, 2015 - According to the latest studies, over 78% of small businesses will adopt some form of cloud-based computing within the next five years. Don't let your business fall behind your competition and discover all the advantages of a cloud computing infrastructure with help from JENLOR Integrations.
A cloud computing infrastructure provides you with a way to lower costs and bring greater efficiency to your organization. With so many advantages to cloud computing, it's no wonder that the marketplace for cloud computing services is only expected to grow in the coming years.
In general, cloud computing refers to on-demand, shared network access that may be released with a minimal level of management, overseeing or interaction from your service provider. Many IT professionals see cloud computing as the next step in the natural evolution of IT, providing businesses with unmatched flexibility and management capabilities.
A move toward the implementation of a cloud-based computing infrastructure lowers your cost in terms of servers, software and related technology as well as necessary expenses related to buildings and space needed to house and maintain any fixed equipment. With less IT expenses, cloud computing helps you build capital as you allocate resources elsewhere on your way towards future growth and long-term goals.
Whether you choose a private cloud deployment or participate in a community cloud infrastructure, you greatly reduce the reliance on internal resources required to maintain connectivity to your most valuable data. This allows you to pay more attention to customer interactions, sales, social media campaigns and more all without hiring a single IT employee.
The Cloud is all around us, and savvy business owners are starting to notice. Don't hold your business back any longer and discover all the advantages of implanting a cloud infrastructure by downloading the JENLOR's free guide at
http://www.jenlor.com/offers/
.
Stop spending thousands of dollars on expensive servers, storage and hardware that you'll have to replace every other year and start deploying the cloud services from JENLOR today. Discover all the ways that JENLOR Integrations can make IT easier for your organization by visiting
www.jenlor.com
.
Email JENLOR Integrations, Inc.