Survey Says Over Half of the Country Has Been on a Beachfront Getaway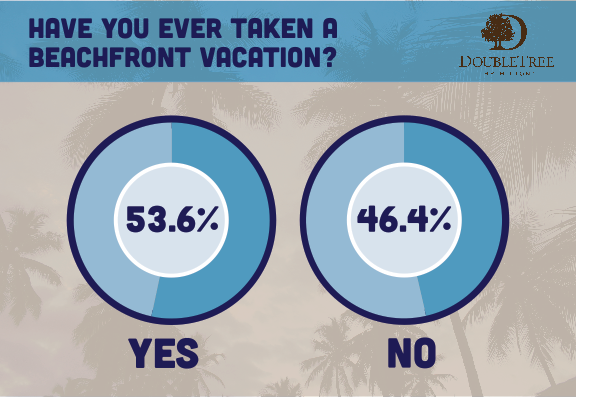 November 18, 2015 - It is no wonder that beaches all across the globe rank among some of the top vacation spots for travelers of all ages. In fact, a beach vacation is becoming more popular than ever. According to the latest survey from the DoubleTree by Hilton Hotel & Suites Ocean Point Resort & Spa over half of the country has already been on a beach vacation, and signs look positive for the trend to continue for years to come.
With virtually endless opportunity to unwind, relax, and get away from the world around us, the beach is the ideal setting for the ultimate vacation. The crisp sands and sparkling warm waters all beneath endless sunshine make Miami Beach, in particular, one of a traveler's favorite places to be.
One of the reasons the beach is such a popular vacation destination is that there is something for everyone, regardless of your age or your interests. Seniors can take some much deserved time for rest and relaxation in their retirement years, while college students can party well into the night underneath the starry skies.
No matter how you look at it, a beach vacation is the perfect break for both your mind and your body. In fact, there is scientific evidence supporting all the ways we benefit from a beachfront getaway. We all know that sunshine is the best way to get Vitamin D into our bodies, but did you know that spending time in the sun can greatly improve you overall mood?
A recent study by the Baker Heart Research Institute showcased the sun's direct effect on our mental wellbeing, boosting serotonin levels to leave us feeling a little warmer inside and out. Better yet, just looking at the ocean waters and coastline can help calm our body's opioid receptors to help us feel more relaxed and at ease.
Just being on the beach helps to keep our bodies moving – swimming, running or surfing between all the rest and relaxation. Even having your feet in the sand helps to naturally exfoliate our skin and provide our body with the minerals we need.
If you're still not convinced that a beachfront vacation is right for you, uncover all the benefits of the beach by checking out the survey at
http://www.oceanpointresort.com/is-the-beach-the-ultimate-vacation-getaway-survey/
.
Give yourself the ultimate beachfront getaway by booking your stay at Miami's Ocean Point Resort & Spa. Located just footsteps away from the shores of Sunny Isles Beach, the Ocean Point Resort & Spa provides you with all the luxury you'd expect from a world-class hotel. Better yet, our vacation packages make it more affordable than ever to soak up the sun, relax and play your vacation away. Discover what makes the Ocean Point Resort & Spa one of Miami's finest accommodations by visiting
www.oceanpointresort.com
.
Email DoubleTree by Hilton Hotel & Suites DoubleTree Ocean Point Resort & Spa