The Ellis Hotel Discovers a Shift in the Way Americans Choose Their Hotels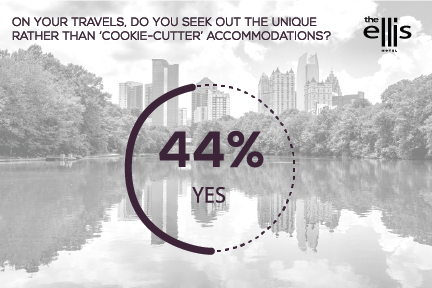 November 25, 2015 - While the 'cookie-cutter' accommodations provided by franchise hotels have long been the norm for travelers, the Ellis Hotel has recently learned that many travelers are switching up the way they choose their hotels in favor of more unique accommodations, both for their business trips and leisure getaways.
According to a recent survey by the Ellis Hotel, 44% of travelers seek out unique accommodations when planning their travels, coinciding with a significant shift taking place throughout the hospitality industry. While once representing only a small segment of the industry, intimate boutique hotels are becoming more sought after than ever before.
Younger generations are leading the charge, pushing hotels beyond the norm in search of a more personal experience during their stay. In the Ellis Hotel's survey, over half of respondents between 18 and 24 years of age stated they preferred seeking out unique accommodations over standard franchise hotel options.
One of the biggest reasons for the shift is the increased importance of the experience and atmosphere a hotel provides. The newest generation of travelers is after something beyond the norm, looking for an immersive travel experience that adds to the overall travel experience.
From the moment you check into a boutique hotel, the differences are crystal clear. Whether it's being greeted by name as you come and go or seeing a staff member go out of their way to offer a more catered experience during your stay, boutique hotels offer the one on one attention and service your hotel stay deserves.
Better yet, boutique hotels allow guests the convenience of staying in the center of the action. Due to their intimate size, boutique hotels can settle into spaces otherwise unheard of by their larger franchise hotel counterparts. Staying in prime real estate locations, you'll be able to experience the city's atmosphere and attractions with great convenience.
In recent years, boutique hotels have emerged all across the U.S., and it's no wonder why these are becoming more sought after accommodations for travelers young and old. Discover all the reasons why boutique hotels may just be the next big thing in hospitality by visiting
http://blog.ellishotel.com/travelers-favor-de-standardization-hotel-industry/
.
Discover what sets boutique hotels apart from the rest by booking downtown Atlanta accommodations at the Ellis Hotel. As downtown Atlanta's premier boutique hotel, our luxury accommodations simply can't be beat – offering guests the perfect balance between classic and contemporary for a hotel stay like no other. Whether you're traveling for business or leisure, discover all the benefits a boutique hotel can offer you and book your accommodations at the Ellis Hotel today by visiting
www.ellishotel.com
.