Want Some New Holiday Season Design for Your Website with a 60% Discount?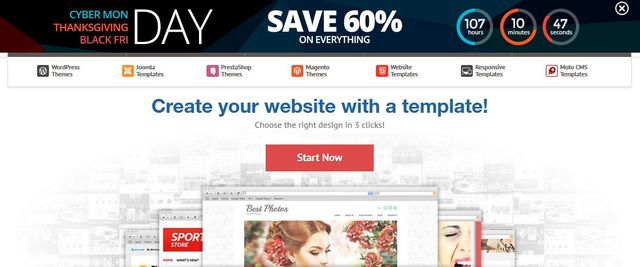 Brooklyn, New York, November 27, 2015 – From November 25th to November 30th TemplateMonster – the biggest marketplace of web templates on the Web – is slashing its prices by 60% on each of its 26,000 design templates. You can choose any template from
50+ categories
for any kind of website.
You can save money and prepare your website for the upcoming sales season! Right now you have only 107 hours left to grab a great design template at a bargain price. New design can give your website а professional new look. Renovate your website right now and be prepared for the holiday season!
"The best time for shopping is festive season which starts on Black Friday (and Cyber Monday), when every brand tries to offer huge discounts. Almost every owner of e-commerce websites have experienced a 300% sales increase worldwide during the last year's sales on Black Friday and Cyber Monday. Because the mood has a tremendous influence on shopping habits, and about 20% of shoppers tend to make spontaneous purchases during the festive season. With the help of our templates you can prepare your visitors for the festive season, tune them into a good mood, and encourage them to shop at your e-store",
commented Demetrio Fortman, COO of TemplateMonster.
About TemplateMonster company
TemplateMonster
is a world leading manufacturer of ready-made templates for the development of websites of any complexity with 13 years of experience. When working on website design, the company's specialists comply with the world's highest quality standards and consider the latest trends of the web-development market. As of today, the number of products in the company's catalog of templates and ready-made websites has reached more than 26000 units.
TemplateMonster team provides its customers with an opportunity to create their own websites based on a wide variety of engine types. Our templates work perfectly with such popular free engines as WordPress, Joomla, Drupal and many others. Our customers who have created websites based on TemplateMonster templates enjoy ongoing support and maintenance of personal managers.