ARP-4754A Technical Whitepaper - free from AFuzion Inc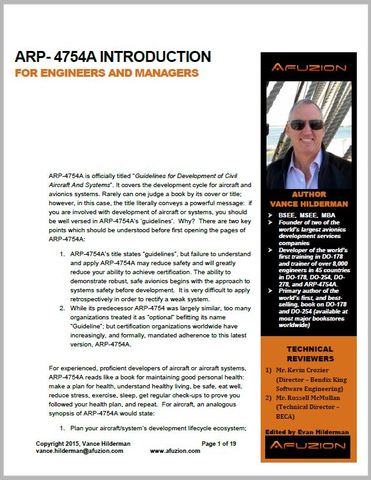 May 6, 2016 - AFuzion Inc has released it's newest whitepaper, "Understanding & Applying ARP-4754A", which will be a chapter in the forthcoming book Avionics Development Ecosystem, by Vance Hilderman. This free 20-page technical ARP-4754A whitepaper concisely explains ARP-4754A facts and best practices/mistakes in applying ARP4754A. AFuzion clients can request unlimited technical whitepaper downloads while avionics professionals may request up to two free whitepapers per year.
ARP-4754A is officially titled "Guidelines for Development of Civil Aircraft And Systems". It covers the development cycle for aircraft and avionics systems. Rarely can one judge a book by its cover or title; however, in this case, the title literally conveys a powerful message: if you are involved with development of aircraft or systems, you should be well versed in ARP-4754A's 'guidelines'. Why?
There are two key points which should be understood before first opening the pages of ARP-4754A, and which are fully covered in this 20-page ARP-4754A facts and information whitepaper:
1. ARP-4754A's title states "guidelines", but failure to understand and apply ARP-4754A may reduce safety and will greatly reduce your ability to achieve certification. The ability to demonstrate robust, safe avionics begins with the approach to systems safety before development. It is very difficult to apply retrospectively in order to rectify a weak system.
2. While its predecessor ARP-4754 was largely similar, too many organizations treated it as "optional" befitting its name "Guideline"; but certification organizations worldwide have increasingly, and formally, mandated adherence to this latest version, ARP-4754A.
For experienced, proficient developers of aircraft or aircraft systems, ARP-4754A reads like a book for maintaining good personal health: make a plan for health, understand healthy living, be safe, eat well, reduce stress, exercise, sleep, get regular check-ups to prove you followed your health plan, and repeat. For aircraft, an analogous synopsis of ARP-4754A would state:
1. Plan your aircraft/system's development lifecycle ecosystem;
2. Implement Safety activities per ARP-4761/A;
3. Define and justify Assurance Level;
4. Define system architecture and requirements; Validate;
5. Perform Verification and Configuration Management;
6. Implement Process Assurance and prove Transition Criteria.
The ARP-4754A paper download can be done here:
http://afuzion.com/avionics-safety-critical-training-whitepapers/
AFuzion also provides ARP-4754A Training; AFuzion's trainers have a minimum 20 years of avionics development experience each and have trained over 9,500 avionics engineers and managers from 300 companies in 35 countries. Private training is provided with free customization to truly address your team's needs. AFuzion's ARP-4754A classes are fast-paced, and replete with ARP-4754A information and facts along with ARP 4754A best practices.
Download at
www.afuzion.com