TemplateMonster to Release The First-of-A-Kind Magento 2.0 Template for Free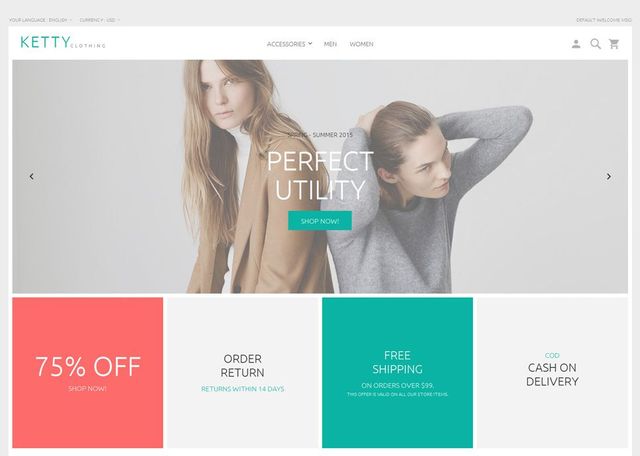 Brooklyn, New York, November 30th 2015 – TemplateMonster is happy to roll out the very first of a kind Magento 2.0 template on the web – Ketty Magento 2 Beta. More great news – it comes FREE OF CHARGE!
We have been following the development of Magento 2.0 really close. So, it comes as no surprise that we've made our move with
Ketty Magento 2 Beta
the day the new version of CMS launched! This fully responsive and easy-to-modify template is one of 777 Magento themes (
www.templatemonster.com/magento-themes.php
) crafted by our team from scratch. It was inspired by the latest web-design trends and, just like any other template from TemplateMonster, it has a clean and professional design. Our usability analysts state that clean designs with pleasant and engaging colours affect 85% of customers in a positive way and boost conversion rates on e-commerce websites.
While crafting this theme, we have been focusing on performance improvements which is why
Ketty Magento 2 Beta
is exceptionally user-friendly. Now, let us brief you on the most important changes we've made in this template:
faster, more secure and easier to use;
enhanced performance;
simple and fast installation process;
improved and user-friendly search engine;
updated technology stack, including HTML5, CSS3 and the latest version of PHP.
"At TemplateMonster we are always striving to help the owners of small and medium businesses to efficiently sell their products and services over the internet. That's why our team aims to present first-of-a-kind, high-quality templates built on cutting-edge technologies. This way our clients can focus on delivering the best ecommerce experience for their customers, instead of having to worry about such things as professional design and usability of their websites",
noted Demetrio Fortman, the COO of TemplateMonster
.
About TemplateMonster company
TemplateMonster (
www.templatemonster.com
) is a world leading manufacturer of ready-made templates for the development of websites of any complexity with 13 years of experience. When working on website design, the company's specialists comply with the world's highest quality standards and consider the latest trends of the web-development market. As of today, the number of products in the company's catalog of templates and ready-made websites has reached more than 26,000 units.
TemplateMonster team provides its customers with an opportunity to create their own websites based on a wide variety of engine types. Our templates work perfectly with such popular free engines as WordPress, Joomla, Drupal and many others. Our customers who have created websites based on TemplateMonster templates enjoy ongoing support and maintenance of personal managers.
For press inquiries, please, see our Press Room page:
www.templatemonster.com/press
or contact:
Dmytriy Semianysty
press@templatemonster.com