Give Your Home's Heating & Cooling a Quick Inspection with Help from Tudi Mechanical Systems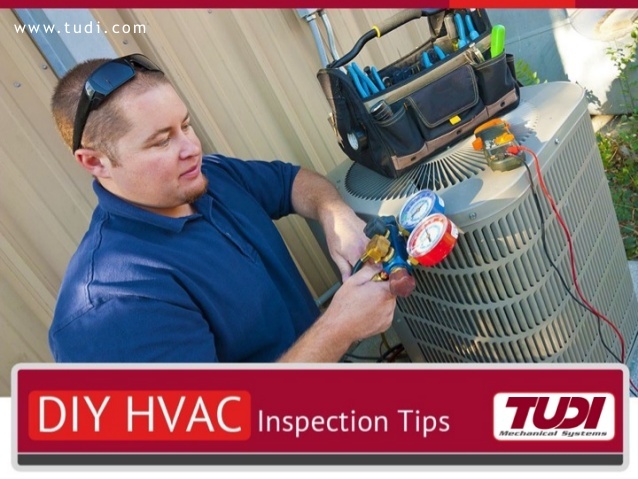 December 1, 2015 - While having a professional HVAC technician just a phone call away is always a plus, there are a couple of things you can do on your own to improve your unit's energy efficiency. Make sure your home's heating and cooling systems are performing up to par with help from the professional HVAC technicians of Tudi Mechanical Systems.
No matter how much care you put into your DIY inspections, it's imperative that you have your furnace and cooling system professionally inspected at least once every two years. Only a professional HVAC technician will be able to provide the necessary maintenance your HVAC unit needs, ensuring that everything is operating safely and at maximum efficiency. In between inspections, make sure to change out your furnace filter to keep your unit running as efficiently as can be.
Another way to keep your HVAC system up to speed is by making sure your home's ductwork is clean and clear. Duct cleaning, whether professionally or on your own, requires little effort and can potentially improve energy efficiency. Clear your home's air ducts of any clutter or debris, and that ensure all joints are tightly sealed with high-quality foil-faced tape for maximum airflow and efficiency.
Your home's heating and cooling account for almost half of your total energy usage. Make sure your money isn't going to waste by sealing off any drafts you find in the home. Make a list of all the areas in your home that have a potential for drafts. Close off those areas, as well as all combustion appliances, and use an incense stick and exhaust fans to circulate air throughout your home and keep an eye open to any flowing or wavering smoke towards a singular direction – a sign of an air leakage in the home.
It never hurts to stay on top of your home's HVAC maintenance. Make sure you know how to give your home's unit a DIY energy audit by visiting
http://www.tudi.com/diy-hvac-inspection-tips-slideshow
.
Discover more ways to cut back on your energy costs and save throughout the entire home by getting in touch with the full-service technicians at Tudi Mechanical Systems. Our Pittsburgh plumbers, HVAC technicians, certified electricians and general repairers have the knowledge and know-how to keep your home in working order all year round. Find out what Tudi can do for you by visiting
www.tudi.com
.
Email Tudi Mechanical Systems