Start Planning Your Holiday Vacation to Miami Beach with Help from the DoubleTree Ocean Point Resort & Spa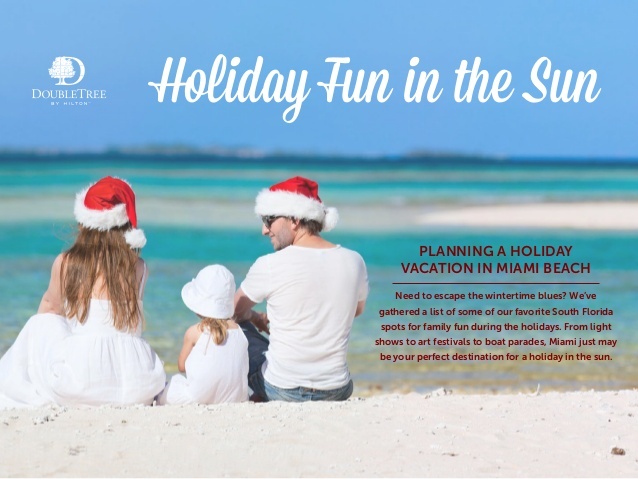 December 2, 2015 - Keep the wintertime blues away and enjoy some holiday fun in the sun by taking a trip to sunny Miami Beach, Florida. In their latest slideshow, the Ocean Point Resort & Spa walks through just some of the ways to add some holiday cheer to your vacation.
While there may not be snow, Miami more than makes up for its lack of a traditional white Christmas with countless wintertime activities, festivals and attractions that are sure to warm your holiday spirits. From light shows to art festivals to boat parades, Miami just may be your perfect destination for a holiday in the sun.
One of Miami's premier wintertime attractions is Santa's Enchanted Forest. Boasting over 100 rides, attractions, shows and more, Santa's Enchanted Forest is the world's largest holiday theme park and carnival. Shop for unique gifts and be dazzled by the lights along Santa Claus Lane, or going full throttle on one of over a dozen thrill rides, Santa's Enchanted Forest is a must for any holiday vacation.
For something a bit more out of the box, Miami's Holiday Boat Parade has been dazzling crowds since 1998 with nearly 100 intricately decorated yachts and boats. This year's parade promises to be bigger and better than ever before, featuring food, music and fun for all ages.
Zoo Miami also gets in on the holiday fun with Zoo Lights. Come mid-December, Zoo Miami lights up with over half a million bright, animal shaped lights and Christmas Trees that climb towards the sky. Take a stroll along the path, sip some hot cocoa and sing your favorite carols along the way in this Miami holiday tradition. For more holiday animal fun, be sure to head to Jungle Island for their annual 'Wild Holiday' celebration.
If you want to be dazzled by decorations like no other, take a trip to the Deering Estate for their Holiday Wonderland Celebration. Every December, the Deering Estate opens its doors to visitors from across the country, showcasing its fabulous handmade holiday décor for all to enjoy.
Of course, no holiday is complete without getting you picture taken on the Big Man's lap. Even your pets can get involved in the holiday fun when you take a trip to The Ice Palace at Dolphin Mall. In addition to the yearly 30-foot Ice Palace, falling snow and light show displays, this year's interactive exhibit features characters and scenes from the upcoming Peanuts movie.
If you're looking to take a break and get away from it all this holiday season, take a trip to Miami Beach and discover all there is to add some holiday cheer to your celebration by visiting
www.oceanpointresort.com/holiday-fun-in-the-sun-planning-a-holiday-vacation-in-miami-beach-slideshow/
.
Located just footsteps away from the shores of Sunny Isles Beach, a stay at the DoubleTree Ocean Point Resort & Spa is the best way to spend the spend the holiday season. Our larger than file Miami Beach hotel rooms are outfitted with the best in modern day luxuries and amenities, while our friendly staff caters to your every need. Learn more about what the DoubleTree Ocean Point Resort & Spa can do for you by visiting
www.oceanpointresort.com
.
Email DoubleTree by Hilton Hotel & Suites DoubleTree Ocean Point Resort & Spa