Apex K2 Hip Implant Lawsuit Evaluations Now Being Offered by Bernstein Liebhard LLP Involving Alleged Early Failure of Modular Hip System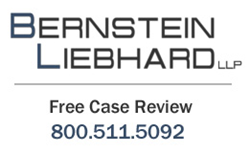 December 2, 2015 - The nationwide law firm of Bernstein Liebhard LLP is now evaluating potential legal claims on behalf of individuals who have allegedly experienced premature failure of the Apex K2 hip implant (
http://www.rxinjuryhelp.com/omni-apex-k2-hip-replacement/
), a modular hip replacement system marketed by Massachusetts-based OMNI Life Science. The Firm launched an investigation of the Apex K2 hip after research published in the
Journal of Arthroplasty
indicated that the system was associated with high rates of fretting and corrosion, which may cause premature failure of the hip within just a few years of initial surgery.
"Medical device manufacturers have a responsibility to ensure their products are safe and effective before they come to market. Apex K2 hip implant recipients who required revision surgery allegedly due to the premature failure of this device could be entitled to compensation for their medical bills and other damages," says Sandy A. Liebhard LLP, a partner at Bernstein Liebhard LLP, a nationwide law firm representing victims of defective drugs and medical devices. The Firm is seeking to hear from any Apex K2 hip replacement recipients who allegedly experienced fretting, corrosion, metallosis, pseudotumor development or other complications that resulted in premature failure of their hip implant.
The Apex K2 Hip Implant
The Apex K2 Modular Hip Replacement System consists of a femoral stem and various neck and head components that allow a surgeon to create a customized fit for each individual patient. The system was approved for sale in 2004, under the U.S. Food & Drug Administration's (FDA) 510(k) clearance program. This program does not require a device to undergo human clinical trials if a manufacturer can demonstrate that the new product is substantially equivalent to an implant previously approved by the FDA.
In October 2015, a study published in the Journal of Arthroplasty suggested that the Apex K2 hip was prone to loosening, subsidence, migration, fretting, and corrosion, which could result in premature failure of the device. Complications noted in the study included dislocation, infections, and reactions to metal particles shed by the hip. At least two of the 95 patients followed for the study required two-stage revision surgery due to deep joint infections, while others developed a condition called aseptic, lymphocyte-dominated vasculitis-associated lesion, or ALVAL. ALVAL is a painful, adverse local tissue reaction that can cause pseudotumors to form in the tissue surrounding a hip implant.
So far OMNI has not indicated that it plans to issue an Apex K2 hip implant recall in the U.S. However, in 2012, approval for the Apex K2 Femoral Stem was cancelled in Australia, after data from the Australian National Joint Replacement Registry revealed that the component had a higher than expected revision rate. According to the
Australia Therapeutic Goods Administration,
the data indicated that the cumulative revision rate for the Apex K2 Modular Hip Replacement System was 5.5% at 1 year from the time of implantation and 9.3% at 3 years.
Patients who allegedly experienced the premature failure of an Apex K2 Modular Hip Replacement may be entitled to compensation for medical bills, lost wages, pain and suffering, and more.
To learn more
about filing an Apex K2 hip implant lawsuit, please visit Bernstein Liebhard LLP's website, or call 800-511-5092.
About Bernstein Liebhard LLP
Bernstein Liebhard LLP is a New York-based law firm exclusively representing injured persons in complex individual and class action lawsuits nationwide since 1993. As a national law firm, Bernstein Liebhard LLP possesses all of the legal and financial resources required to successfully challenge billion dollar pharmaceutical and medical device companies. As a result, our attorneys and legal staff have been able to recover more than $3.5 billion on behalf of our clients. The Firm was named by The National Law Journal to the Plaintiffs' Hot List, recognizing the top plaintiffs firms in the country, for 12 consecutive years. Bernstein Liebhard LLP is the only firm in the country to be named to this prestigious list for a dozen consecutive years.
Bernstein Liebhard LLP
10 East 40th Street
New York, New York 10016
800-511-5092
ATTORNEY ADVERTISING. © 2015 Bernstein Liebhard LLP. The law firm responsible for this advertisement is Bernstein Liebhard LLP, 10 East 40th Street, New York, New York 10016, 800-511-5092. Prior results do not guarantee or predict a similar outcome with respect to any future matter.
Contact Information:
Sandy A. Liebhard, Esq.
Bernstein Liebhard LLP
info(at)consumerinjurylawyers(dot)com
http://www.rxinjuryhelp.com/
https://plus.google.com/115936073311125306742?rel=author