Invokana Lawsuit Attorneys at Bernstein Liebhard LLP Comment on New Ketoacidosis Warning for SGLT2 Inhibitor Diabetes Drugs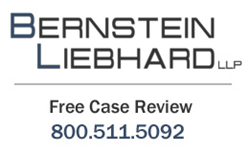 December 7, 2015 - The U.S. Food & Drug Administration (FDA) has ordered the manufacturers of Invokana (
http://www.rxinjuryhelp.com/invokana/
) and other SGLT2 inhibitor diabetes medications to add new warnings to their product labels regarding a potential association with ketoacidosis and serious urinary tract infections, both of which may lead to hospitalization. According to a
Drug Safety Communication
issued by the Agency on December 4th, information about these potential complications will now be included in the labels' "Warnings and Precautions" sections.
In addition to the label modifications, the FDA is also requiring SGLT2 inhibitor manufacturers to conduct a 5-year enhanced pharmacovigilance study in order to analyze spontaneous post-marketing reports of ketoacidosis in patients treated with these drugs.
"Since the FDA announced in May that it had launched a safety review of SGLT2 inhibitors, our Firm has heard from numerous individuals who allegedly developed ketoacidosis due to the use of Invokana and similar medications. We are pleased that the agency is taking steps to address this serious matter," says Sandy A. Liebhard, a partner at Bernstein Liebhard LLP, a nationwide law firm representing victims of defective drugs and medical devices. The Firm is investigating potential Invokana lawsuits on behalf of Type 2 diabetes patients who were diagnosed with ketoacidosis, allegedly due to their use of this or another SGLT2 inhibitor.
FDA Safety Review
Invokana, which was brought to market in March 2013, was the first SGLT2 inhibitor approved by the FDA to treat Type 2 diabetes. Other medications in this class include Invokamet, Jardiance, Farxiga, Xigduo XR and Glyxambi.
In May 2015, the FDA announced that it was investigating a number of cases in which patients taking SGLT2 inhibitors for Type 1 or Type 2 diabetes had developed ketoacidosis, a dangerous condition caused by the accumulation of toxic acids called ketones in the blood stream. In its December 4th communication, the FDA revealed that at least 73 such reports had been logged with its adverse event database from March 2013 to May 2015. The FDA is now recommending that patients stop taking their SGLT2 inhibitor and seek medical attention immediately if they develop any symptoms of ketoacidosis, including: nausea, vomiting, abdominal pain, tiredness, and trouble breathing.
According to the December 4th alert, the FDA's adverse event database also received 19 reports of life-threatening blood infections (urosepsis) and kidney infections (pyelonephritis) that started as urinary tract infections among SGLT2 inhibitor patients from March 2013 through October 2014. All of these patients required hospitalization, and a few required admission to an intensive care unit or dialysis in order to treat kidney failure. Individuals using these drugs should contact their healthcare provider if they develop any symptoms of a urinary tract infection, including: burning upon urination, need to urinate frequently or right away, pain in the lower stomach, or blood in the urine.
Bernstein Liebhard LLP is currently evaluating potential Invokana lawsuits on behalf of Type 2 diabetics who were hospitalized with ketoacidosis while using this drug or any other SGLT2 inhibitor.
To learn more
, please visit Bernstein Liebhard LLP's website, or call the Firm directly at 800-511-5092.
About Bernstein Liebhard LLP
Bernstein Liebhard LLP is a New York-based law firm exclusively representing injured persons in complex individual and class action lawsuits nationwide since 1993. As a national law firm, Bernstein Liebhard LLP possesses all of the legal and financial resources required to successfully challenge billion dollar pharmaceutical and medical device companies. As a result, our attorneys and legal staff have been able to recover more than $3.5 billion on behalf of our clients. The Firm was named by The National Law Journal to the Plaintiffs' Hot List, recognizing the top plaintiffs firms in the country, for 12 consecutive years. Bernstein Liebhard LLP is the only firm in the country to be named to this prestigious list for a dozen consecutive years.
Bernstein Liebhard LLP
10 East 40th Street
New York, New York 10016
800-511-5092
ATTORNEY ADVERTISING. © 2015 Bernstein Liebhard LLP. The law firm responsible for this advertisement is Bernstein Liebhard LLP, 10 East 40th Street, New York, New York 10016, 800-511-5092. Prior results do not guarantee or predict a similar outcome with respect to any future matter.
Contact Information:
Sandy A. Liebhard, Esq.
Bernstein Liebhard LLP
info (at)consumerinjurylawyers(dot)com
http://www.rxinjuryhelp.com/
https://plus.google.com/115936073311125306742?rel=author