Mr. John Helps Customers Create their Temporary Sanitation Blueprint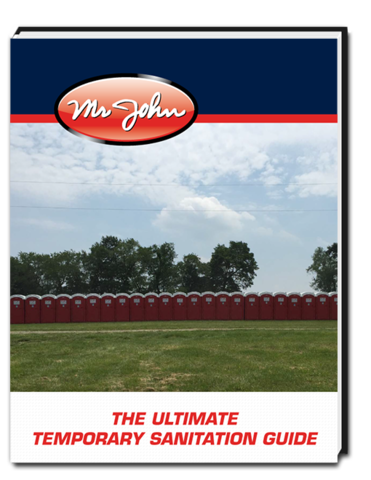 December 9, 2015 - Whether you are setting up a large scale construction site, planning a city-wide carnival or just need a few toilet rentals to last you through your next party, proper planning of your event's temporary sanitation and the availability of restrooms may be the secret to success. Don't let the need to go cost you lost attendance or production. Stay on top of all your sanitary needs with 'The Ultimate Temporary Sanitation Guide' from Mr. John.
Inside the guide, you'll find everything you need to start planning all of your temporary sanitation services and ensure that your event goes as planned. Picking the proper portable toilet rentals and working alongside the porta potty pros at Mr. John will ensure you get the quality service your event deserves.
No matter what type of event you are planning for, having the right blueprint in place will help keep your site sanitary and your guests satisfied. It is important to make sure you have all of the planning in place to make the best decision possible when choosing your portable restrooms.
Take some time to ask yourself a few questions before getting everything into place. How many people are you expecting to accommodate? Will anyone attending have special needs? How long will the event last? Will there be food and drinks served during the day? All of these factors play a role in how many portable toilets you will really need to keep everyone satisfied.
Once you have the amount figured out, it's time to turn your attention towards the finer details of the planning process. There are several portable toilet options to choose from, helping provide more comfort and convenience for your guests. Beyond the standard unit, Mr. John offers a variety of toilet rental options from Deluxe Units and Family Rooms to Luxury Restroom Trailers. Remember, at least 5 percent of your portable toilets must be Wheelchair Accessible in accordance with the Americans with Disabilities Act.
Mr. John's offerings do not end at toilet rentals. We offer clients the total package when it comes to planning your event needs, and our Trifecta discount allows you to save time and money while making Mr. John your one stop shop for all of your job site and event needs. Mr. John and Tri-Boro Trailer together are a one-stop-shop for job site solutions. Our Trifecta discount includes the rental of portable toilets, office trailers, and storage containers at a single site or location.
Regardless of the type of event you're hosting, make sure you have just the right porta john for the job by downloading your copy of Mr. John's 'The Ultimate Guide to Temporary Sanitation' and start planning your special event's sanitation needs today by visiting
http://mrjohnpit.com/offers/
.
Since 1964, Mr. John has established its presence as the leading temporary sanitation supplier and portable restroom operator in the Greater Pittsburgh area. Whether you need to set up your construction site's sanitation or find portable restroom trailers and VIP bathrooms for a lavish party, contact the portable restroom operators at Mr. John by visiting
www.mrjohnpit.com
.