Synora Beauty Presents the Top Ten Beauty Secrets of 2016 a Breakthrough Publication available via Instant Online Download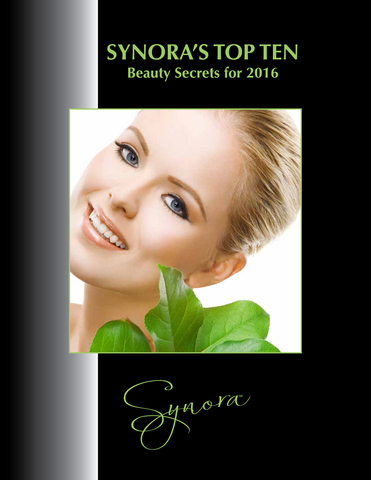 December 10, 2015 - Synora Beauty (
www.synorabeauty.com
) products of Ventura, CA approaches skin care a bit differently. While they create products that cleanse, hydrate, tone, restore and protect the skin, they also pose the question of what it means to be beautiful. Founder and formulator Synora Pattillo feels the answer lies in an existence that transcends the surface. Her new free booklet (
www.synorabeautybook.com
) taps into the intimate dialogue between the mind and the body.
Packed with self-care tips, Synora's Top Ten Beauty secrets offers easy to follow guidelines for relaxation, invigoration, and detoxification … all designed to help establish inner peace and outer beauty.
"The conversation between you and your body is an intimate one and like no other dialogue in the world," Synora tells us. She firmly maintains that if we listen to what our bodies are trying to tell us, we may very well find the secret to a peaceful and more beautiful existence.
Synora Beauty Products feature an array of natural skincare solutions to help combat the damage done by the sun, the environment, daily living and modern toxins. With products that are botanical-based, anti-oxidant rich, and fast-acting Synora's cleansers, creams, lotions, washes and masks are renowned for their restorative and preventative properties. And, each product carries Synora's name and commitment to quality.
"Nature never ages. It constantly renews itself!" states Synora and her Top Ten Beauty Secrets of 2016 continues that theme by exploring the best insights of both the internal and the external world.
"Tip Ten" is perhaps the most dynamic since it is about happiness, peace and contentment. Synora believes that only when we are at ease with ourselves, can we be at ease with the world. Truly sound advice for a modern existence that moves at breakneck speed amid global events seem to grow more volatile each day.
Readers are urged to exhale, slow down and relax! Complimentary downloads of Synora's Top Ten Beauty Secrets of 2016 are available at
www.synorabeautybook.com
The Synora™ Beauty line is formulated by FNC Medical of Ventura, California … a leading manufacturer of Antimicrobial Skin Care Lotions that are researched and developed by dedicated and experienced chemists. They have been creating quality health and skin care products for over twenty years. FNC ensures that each Synora Beauty formulation works effectively on all skin types, from troubled and blemished skin to sensitive skin.
Synora™ Beauty Products are proudly made in America. For more information about the Synora™ Beauty Essentials product line call 1-800-440-2888 or go to their website at:
www.SynoraBeauty.com
Email Outsource Marketing Group, Inc.