Risperdal Lawsuit Plaintiff Prevails in Fourth Gynecomastia Trial, Bernstein Liebhard LLP Reports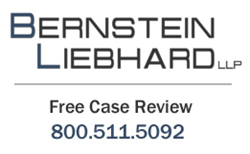 December 15, 2015 - Pennsylvania's fourth trial involving Risperdal (
http://www.rxinjuryhelp.com/risperdal/
) and its potential to cause gynecomastia has concluded in the Philadelphia Court of Common Pleas, with the finding that the drug's manufacturers failed to provide doctors and patients with adequate warnings regarding its potential to cause excessive male breast development. In a verdict rendered on December 11th, the jury hearing the case awarded the plaintiff $500,000 in compensatory damages. (Case No. 130401984)
"This is the fourth time a Pennsylvania jury has found that Risperdal's label warnings pertaining to male breast development were inadequate, and the third time a gynecomastia plaintiff has been awarded compensatory damages. Our Firm is representing a number of Risperdal clients who are alleged to have suffered similar complications, and we are pleased with the outcome of this case," said Sandy A. Liebhard, a partner at Bernstein Liebhard LLP, a nationwide law firm representing the victims of defective drugs and medical devices. The Firm continues to provide free legal reviews to alleged victims of Risperdal gynecomastia.
Risperdal Litigation
Risperdal is an antipsychotic drug marketed by Johnson & Johnson's Janssen Pharmaceuticals subsidiary that is currently indicated to treat schizophrenia and bipolar disorder in adults and adolescents, as well as irritability symptoms related to autism. While the medication has been on the market since 1993, its first pediatric indications were not approved until 2006.
The plaintiff at the center of this case took Risperdal for three years beginning in 2006 to treat symptoms associated with Tourette's syndrome, when he was just 11-years-old. Within a year, he had grown female-like breasts. Risperdal has never been approved to treat Tourette's. Among other things, the plaintiff had alleged that Janssen had improperly marketed Risperdal to treat unapproved indications in children.
More than 1,600 Risperdal lawsuits have been filed in the Philadelphia Court of Common Pleas, where a mass tort program has been established for product liability claims involving the drug's alleged side effects. This year, four gynecomastia lawsuits have gone to trial in the proceeding. On November 9th, an autistic man who had been treated with Risperdal as a child was awarded $1.75 million after the jury also found that Johnson & Johnson and Janssen had failed to provide proper warnings regarding its link to gynecomastia. (Case No. 130401990) In February, another autistic plaintiff who had also been prescribed the drug as a child was awarded $2.5 million, after the jury reached a similar conclusion. (Case No. A-196444)
In March, yet another jury found Risperdal's gynecomastia warnings to be inadequate. But the panel declined to award the plaintiff any damages after determining that there was not enough evidence to conclude that the drug had caused his condition. (Case No. 130301803)
Alleged victims of Risperdal and gynecomastia may be eligible to join the litigation involving this medication.
To learn more
about filing a Risperdal lawsuit, please contact Bernstein Liebhard LLP for a free case review by visiting the Firm's website, or by calling 800-511-5092.
About Bernstein Liebhard LLP
Bernstein Liebhard LLP is a New York-based law firm exclusively representing injured persons in complex individual and class action lawsuits nationwide since 1993. As a national law firm, Bernstein Liebhard LLP possesses all of the legal and financial resources required to successfully challenge billion dollar pharmaceutical and medical device companies. As a result, our attorneys and legal staff have been able to recover more than $3.5 billion on behalf of our clients. The Firm was named by The National Law Journal to the Plaintiffs' Hot List, recognizing the top plaintiffs firms in the country, for 12 consecutive years. Bernstein Liebhard LLP is the only firm in the country to be named to this prestigious list for a dozen consecutive years.
Bernstein Liebhard LLP
10 East 40th Street
New York, New York 10016
800-511-5092
ATTORNEY ADVERTISING. © 2015 Bernstein Liebhard LLP. The law firm responsible for this advertisement is Bernstein Liebhard LLP, 10 East 40th Street, New York, New York 10016, 800-511-5092. Prior results do not guarantee or predict a similar outcome with respect to any future matter.
Contact Information:
Sandy A. Liebhard, Esq.
info (at) consumerinjurylawyers (dot) com
http://www.rxinjuryhelp.com/
https://plus.google.com/115936073311125306742?rel=author