HVAC Brain Announces Limited Supply Sale for WEG Motors Three-Phase General Purpose Motors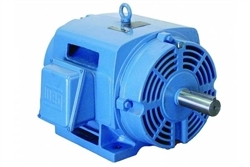 December 18, 2015 - HVAC Brain, Inc. (
www.hvacbrain.com
), retailer of HVAC/R equipment and replacement parts, is holding a limited supply sale for
WEG three-phase general purpose motors
. Eleven models will be available at the most competitive prices on the market, while supplies last.
For more than 50 years, WEG has been leading the industry as an industrial electric motor manufacturer. Producing over 21 million motors each year, WEG is the Americas' largest electric motor manufacturer. By investing in modern manufacturing plants which utilize state-of-the-art processes and technology, WEG is dedicated to developing advanced electrical solutions to serve industrial applications. Through the development of highly efficient motors, WEG is committed to protecting the environment and cutting carbon dioxide emissions.
WEG three-phase general purpose motors are designed to be used in a number of industrial applications. They are built from durable, long-lasting components to maximize value while keeping maintenance and operating costs at a minimum.
WEG motors included in HVAC Brain's limited supply sale include:
Competitive sale prices will be available while supplies last. To view HVAC Brain's online selection of WEG three-phase general purpose motors, please visit
http://www.hvacbrain.com/WEG-Motors-s/5148.htm
.
Why shop at HVACbrain.com: HVAC Brain, Inc. is a fast growing retailer of HVAC/R equipment and replacement parts. At HVACbrain.com, HVAC professionals and maintenance managers can find a wide variety of 'hand-picked' high quality HVAC products such as air conditioning units, actuators and valves, compressors, motors, and coils. With HVAC Brain's tight vendor relationships, customers can choose and order products without worrying about the quality of products HVAC Brain offers.
Contact Info: HVAC Brain, Inc. 9545 Midwest Avenue, Unit A - Cleveland, Ohio 44125, 216-663-4822,
info@hvacbrain.com
.