Oece Arrives On Social Media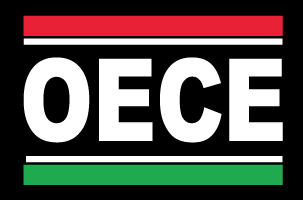 December 19, 2015 - 10th December 2015 is the day that
OECE
will debut on social networks.
The company will open its Facebook, Twitter, LinkedIn and YouTube social channels with the aim of accepting the creative challenges that artisans, architects, designers and entrepreneurs in the wood industry face on a daily basis as they search for innovative, safe and quality solutions that guarantee strength and beauty for surfaces.
Alessandro Pirotta, Managing Director of OECE, explains in a video interview that will go online on 10th December 2015, how the communication approach will change thanks to these social media activities.
The activity on the social networks of OECE will allow the company to have daily contact with the general public and its employees, who will be kept up to date with the company's activities, they will be able to receive direct support, and share new ideas and the latest projects.
OECE will be present on:
Anywhere in the world and whatever the surface to be painted, Sherwin-Williams provides innovative solutions that guarantee the best results.
Commitment to innovation and sustainability, technological strength, commitment to research and development, ability to listen and serve markets with innovative solutions, effective and safe: Sherwin-Williams Italy today is the benchmark of the market finishes for wood, glass, metal and plastics, through recognized international brands.
In 2010 the American colossus of paints The Sherwin-Williams Company has purchased Sayerlack and Becker Acroma which held OECE brand, creating a global leader in wood coatings.
The Sherwin-Williams Company, which employs more than 30000 people, is the first paint company in United States and the third in the world. From January 1, 2013 the two legal entities Sayerlack S.r.l. and SWIC became one company: Sherwin-Williams Italy S.r.l.
Sherwin-Williams Italy has three production plants in Italy: Pianoro (BO), Mariano Comense (CO) and Cavezzo (MO), and distributes its products in more than 80 countries around the world, serving more than 40000 customers.
The company develops, manufactures and distributes its brand products, Sayerlack, Linea Blu, OECE and Sherwin-Williams.
OECE: leadership in special effects and in paints for glass. OECE intercepts the creative challenges of artisans, architects, designers and entrepreneurs of glass and wood by meeting every aesthetic need, with innovative, safe and high quality solutions that guarantee strength and beauty to the surface. OECE produces a wide range of innovative solutions for glass with high aesthetic content - lacquered pigmented and semi transparent, dedicated to the sector of furniture and design - wood - whose high quality satisfy any application need, for indoors and outdoors - metal and plastic. Special effects for glass and wood were created to offer new aesthetic solutions: metalized effects, glitter, sandblasted, satin, droplet, iridescent, fluorescent, cracked, marble, granite, mirror.
Direzione Marketing
SHERWIN-WILLIAMS ITALY S.R.L.
Contatto:
Maria Teresa Ruzzi
Via del Fiffo, 12
40065 Pianoro (Bologna) - Italia
tel. +39 051 770511 - fax +39 051 777437
mruzzi@sherwin.com
-
www.oece.it