Determine Which Type of School Environment is Right for Your Son with Help from Grand River Academy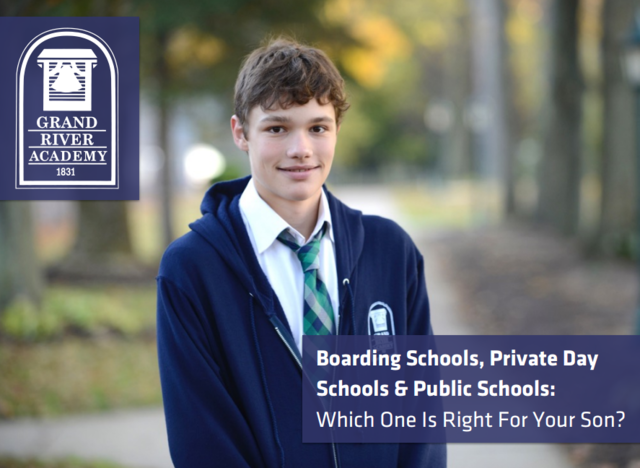 December 19, 2015 - Parents sometimes struggle when considering what type of education is best for their son, whether it is public, private or boarding. Take a deeper look into the differences among the three with help from Grand River Academy.
There are many considerations to be made that go into choosing which type of school will be the best fit for your son. A school's curriculum, administration, faculty, amount of supervision, safety, finances, and location should all play some part as you make your decision. The key to narrowing down your choices is to know a little more about each option.
If you choose a boarding school for your son, he will join an educational community built on a rich tradition that includes challenging academics, diverse extracurricular activities, and a continuous learning environment. Smaller class sizes keep your son from becoming another face in the crowd in the classroom and encourages him to be an active participant in his education. While living on his own, your son will develop the skills needed for success later on in life.
Private day schools are another option to consider when choosing the right school for your son. Academics are the primary focus of this type of schooling environment, with typical extracurricular activities occurring outside of the school day. Private day schools also offer your son flexibility in academic choices, granting him the freedom to choose courses he is actually interested in studying and extra student support to help reach academic goals.
December 19, 2015 - Public schools remain the most popular form of schooling for children across America, accounting for the education of ninety percent of the country. Public schools are within the community you live and are governed by federal, state, and local laws, which includes the control of funding, program development, and the curriculum. Public schools tend to have a more general education curriculum due to the amount of students who attend, but this does vary with each district. With typically larger class sizes, students may have less opportunity for one-on-one learning in a public school setting.
The key to success in any school environment is to find the right place that keeps your son engaged and active with his learning. As your son learns to live and study independently, he will develop the skills needed to find future success in college. Give yourself a bit more insight into the three primary types of school environments and start narrowing down your decision by visiting
http://www.grandriver.org/school-life/blog/boarding-schools-private-day-schools-public-schools-which-one-is-right-for-your-son-slideshow-1
.
Give your son the educational opportunity of a lifetime by enrolling him in Grand River Academy. GRA takes pride in a rich history of providing young men the opportunity for success in college and beyond. Discover how our 360-degree approach to learning can help your son by visiting
grandriver.org
.
Email Grand River Academy