Corporate Finance Associates Chicago Represents Alpha Review Corp. in its Acquisition by Genex Services, LLC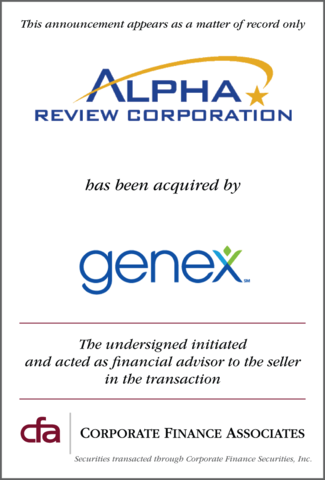 December 23, 2015 - The Chicago office of
Corporate Finance Associates, Inc
., an international investment banking firm providing merger, acquisition and financial advisory services, is pleased to announce that it was the exclusive advisor to Alpha Review Corporation ("ARC") in its acquisition by Genex Services, LLC ("Genex").
Based in Naperville, IL, ARC has specialized in medical bill review services since 1995. They have become one of the premier medical bill review companies in the U.S., working with third-party administrators, insurance carriers, self-insured entities and other organizations that need assistance with medical review services.
Genex is a leader in medical cost containment and disability management services. Headquartered in Wayne, PA, Genex has over 2,900 employees and 47 service locations throughout North America. The Company serves 381 of the Fortune 500 companies as well as the top workers' compensation and disability carriers and third-party administrators in the U.S.
With this acquisition, Genex significantly strengthens its bill review footprint, complementing its expertise with targeted cost management programs, such as specialty review, extensive PPO networks and data analysis. The ARC management team will remain in place and continue to operate under its brand following the transaction.
"There is a natural fit between the two organizations and it was clear early on that Genex valued and would preserve the unique culture at ARC," said Anthony Contaldo, Managing Director of CFA Chicago.
"From our initial meeting through the close of the sale, it was clear Corporate Finance Associates was the right choice to help sell our company," said Mike Drevalas, ARC founder and CEO. "Everyone was extremely professional, knowledgeable, and attentive to detail throughout the process. From the perspective of finding a buyer that would be the best fit for our employees and meeting our financial objectives, we could not have been more pleased."
The
Chicago office of CFA
, acted as the sole advisor to ARC, which included mergers & acquisitions advisory services and financial expertise throughout the entire phase of the sale process. The transaction was led by
Anthony Contaldo
.
About Corporate Finance Associates
Founded in 1956, Corporate Finance Associates is one of the largest and most experienced middle-market M&A advisory and investment banking firms in the nation. CFA has offices across the United States, Canada, and India, with partner offices in Brazil, China, and throughout Europe. More information is available at
www.cfaw.com
. Securities offered through Corporate Finance Securities, Inc., member FINRA and SIPC.
Email Corporate Finance Associates