Global Jet Capital Releases Buyer's Guide to Business Aircraft Financing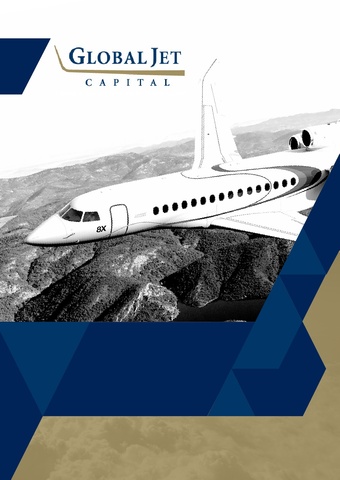 December 30, 2015 - Buying an aircraft may just be the ultimate efficiency and productivity tool your company needs to get ahead. Start flying on your own terms and keep your team on top with help from the aircraft financing experts at Global Jet Capital.
Traditional loan financing and leasing represent two different approaches that a business can employ to acquire a private aircraft for their personal or professional transportation. However, just like the rest of the global economy, the business jet financing market is rapidly changing. There are certain advantages and disadvantages to any aircraft acquisition strategy, so you would be wise to meet with a trusted advisor before entering the market on your own.
One of the most important factors to consider when contemplating a lease or outright purchase of an aircraft is the expected level of usage during a given year. Depending on how often you use the aircraft, and how your organization's finances play out, both outright purchase and private jet leasing options can have their advantages.
The primary benefit of purchasing an aircraft is that after all payments have been made, you may be able to sell the aircraft for profit. However, recent history shows that this can prove to be a dubious assumption. If your organization has the financial means, the extra tax benefits and full rights of usage of your aircraft may partially offset the large cost owed at the time of purchase.
On the other hand, if your company isn't able to allocate the cash needed up front for an outright purchase, private jet leasing provides several alternative financing options that may lessen the burden on your budget. Typically, there are two different kinds of leases available, known as the operating lease and the finance lease.
Operating leases grant the lessee possession of the aircraft for the leasing period, while the lessor remains its actual owner. Instead of a large down payment, the lessee puts down a modest security deposit while paying a monthly fee for usage. At the end of the lease term, the lessee has the opportunity to either lease the aircraft for another term, upgrade to a newer aircraft, or return the aircraft to the lessor with no residual value risk.
Financing leases can provide financing for up to the complete cost of the aircraft. Once the lease has been paid off in full, the aircraft title is then passed along to the lessee. Borrowers are expected to make an initial down payment towards the acquisition cost, while the remaining amount is paid off in monthly installments for five to 12 years.
While many businesses are quick to turn to a DIY approach to aircraft financing, working with a professional aircraft financing team is the best way to ensure you are getting more for your money. Start your search for the perfect aircraft by downloading your copy of 'A Buyer's Guide to Business Aviation Aircraft Financing' and visit
http://blog.globaljetcapital.com/a-buyer-s-guide-to-business-aviation-aircraft-financing-white-paper
.
Stay on top of the latest developments in the private aircraft market and start your aviation financing process by reaching out to a representative from Global Jet Capital. At Global Jet Capital, we offer a variety of private jet leasing options to work with any budget, helping you keep your company ahead with innovative financing alternatives while meeting all your transportation needs. Learn more about what the team at Global Jet Capital can do for you by visiting
www.globaljetcapital.com
.