IVC Filter Lawsuit Attorneys at Bernstein Liebhard LLP Comment on NBC News Investigation of C.R. Bard's G2 Retrievable IVC Filter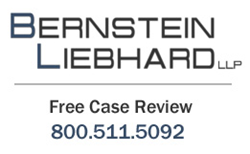 January 5, 2016 - An investigative report that recently aired on NBC News has raised serious concerns about safety issues potentially associated with the G2 Retrievable IVC Filter (
http://www.rxinjuryhelp.com/ivc-filter/bard-g2/
), a blood clot filter marketed by C.R. Bard, Inc. According to the December 31st broadcast, Bard was concerned about reports of G2 filter failures just four months after the devices were approved by the U.S. Food & Drug Administration (FDA). At least a dozen deaths have since been linked to the filters, which were allowed to remain on the market for five years – until 2010 - in spite of those concerns.
Among other things, the
NBC News investigation
uncovered a confidential memo written by a Bard vice president in December 2005 that expressed concerns about problems with migration, tilting, and perforation. Another document that included data through 2010 indicated that G2 series filters were associated with more fractures, migrations and reported problems than any of its competitors. Rather than issuing a recall of the G2 IVC filters, C.R. Bard sold more than 160,000 of the devices in the five years they were on the market.
"The NBC News report is disturbing, especially in light of the growing number of IVC filter lawsuits involving C.R. Bard's G2 and Recovery filters. Many of the injuries detailed by NBC News echo allegations put forth in these claims," says Sandy A. Liebhard LLP, a partner at Bernstein Liebhard LLP, a nationwide law firm representing victims of defective drugs and medical devices. The Firm is currently evaluating product liability lawsuits on behalf of individuals who may have been harmed by C.R. Bard's IVC filters.
Bard IVC Filter Controversy
IVC filters, such as the G2 and Recovery devices, are used to prevent pulmonary embolism in patients for whom standard anticoagulant medications are not appropriate. The small, wire implants are implanted in the inferior vena cava, the body's largest blood vessel, where they catch blood clots before they can travel to the heart and lungs.
When the devices were brought to market in 2005, C.R. Bard touted its G2 IVC filter products as an improvement over its Recovery IVC filters. According to an earlier NBC News investigation that aired in September, the Recovery filter had been associated with more than 300 non-fatal injuries and 27 deaths before it was replaced with the G2 series. Among other things, the report disclosed a confidential study commissioned by Bard in 2004 which linked the Recovery IVC filter to higher rates of death, fracture and movement compared to its competitors. Like the G2, Bard opted not to recall the Recovery filter, and instead allowed it to remain on the market for three years. Roughly 34,000 devices were sold during that period.
Court records indicate that at least 72 Bard IVC filter lawsuits involving the G2 and Recovery products are now pending in a multidistrict litigation underway in the U.S. District Court, District of Arizona. Among other things, plaintiffs claim that Bard was aware that the Recovery and G2 IVC filters were associated with high rates of fracture, migration and tilting, which may result in perforation of the inferior vena cava, embolization and other life-threatening complications. (In Re: Bard IVC Filters Products Liability Litigation – MDL No. 2641)
Individuals who allegedly experienced serious complications due to C.R. Bard's Recovery and G2 IVC filters may be entitled to compensation for medical bills, lost wages, pain and suffering, and more.
To learn more
about filing a C.R. Bard IVC filter lawsuit, please visit Bernstein Liebhard LLP's website. Free, no-obligation legal consultations can also be obtained by calling 800-511-5092.
About Bernstein Liebhard LLP
Bernstein Liebhard LLP is a New York-based law firm exclusively representing injured persons in complex individual and class action lawsuits nationwide since 1993. As a national law firm, Bernstein Liebhard LLP possesses all of the legal and financial resources required to successfully challenge billion dollar pharmaceutical and medical device companies. As a result, our attorneys and legal staff have been able to recover more than $3.5 billion on behalf of our clients. The Firm was named by The National Law Journal to the Plaintiffs' Hot List, recognizing the top plaintiffs firms in the country, for 12 consecutive years. Bernstein Liebhard LLP is the only firm in the country to be named to this prestigious list for a dozen consecutive years.
Bernstein Liebhard LLP
10 East 40th Street
New York, New York 10016
800-511-5092
ATTORNEY ADVERTISING. © 2016 Bernstein Liebhard LLP. The law firm responsible for this advertisement is Bernstein Liebhard LLP, 10 East 40th Street, New York, New York 10016, 800-511-5092. Prior results do not guarantee or predict a similar outcome with respect to any future matter.
Contact Information:
Sandy A. Liebhard, Esq.
Bernstein Liebhard LLP
info(at)consumerinjurylawyers(dot)com
http://www.rxinjuryhelp.com/
https://plus.google.com/115936073311125306742?rel=author