Goldberg, Persky & White Attorneys at Law Release Informational Analysis of Asbestos Exposure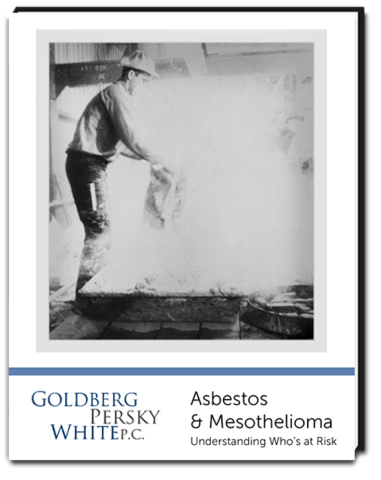 January 6, 2016 - Although highly regulated today, asbestos continues to plague former plumbers, steamfitters, steel workers and electricians all across the country. Make sure you know who is most at risk of asbestos exposure, and what rights you have if you think you've been exposed with help from Goldberg, Persky & White Attorneys at Law.
The hazardous effects of asbestos were first noted back in 1897, when an Austrian doctor traced the pulmonary problems of one of his patients back to the inhalation of asbestos dust. Health concerns related to asbestos exposure continued to grow in the years following, but the industry roared on without slowing before peaking in the early 1970s. With anywhere from a 20 to 50-year gap between conclusive diagnosis and the initial asbestos exposure, many former construction workers are just now beginning to show signs and symptoms of exposure.
The primary health concern related to asbestos exposure is an aggressive form of cancer known as mesothelioma. Malignant mesothelioma attacks the membrane lining of the lungs and abdomen. While there are fewer than 2,000 diagnosed cases of mesothelioma per year, it remains one of the deadliest forms of cancers.
Mesothelioma itself is very difficult to diagnose as it mimics the symptoms of other common ailments, with stronger signs only presenting themselves at later stages of the disease. Unfortunately, there is currently no cure for mesothelioma and treatment is based on relief from the cancer's various symptoms.
Construction industry, steel mill, power plant and chemical plant occupations are the most disproportionately affected by asbestos and mesothelioma. If you think you have been at risk of asbestos exposure, you should seek out medical treatment immediately. A doctor can help you better understand any signs and symptoms that may be associated with exposure.
Treatments to alleviate the symptoms of mesothelioma can quickly add up. Don't let your loved ones get stuck with the bill; seek out the compensation you deserve by working with an asbestos attorney from the moment you are diagnosed. Many mesothelioma victims are eligible for compensation from trust funds, grants or other sources.
If you or someone you know is at risk of asbestos exposure and mesothelioma, make sure you know what steps to take by downloading the free guide from Goldberg, Persky & White Attorneys at Law, available at
http://gpwlaw.com/offers/
.
If you or a loved one has been diagnosed with mesothelioma or lung cancer, don't lose your rights to file a claim. Contact the asbestos attorneys at Goldberg, Persky & White Attorneys at Law today. If you have questions about asbestos exposure, mesothelioma or need help finding and paying for the treatment you need, contact Goldberg, Persky & White Attorneys at law by visiting
gpwlaw.com
.
Email Goldberg, Persky & White P.C. Attorney At Law