HVAC Brain Adds Siemens Room Pressure Monitors to Online Store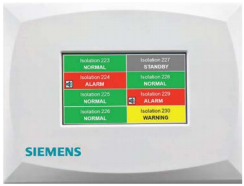 January 8, 2015 - HVAC Brain, Inc. (
www.hvacbrain.com
), retailer of HVAC/R equipment and replacement parts, has added
Siemens room pressure monitors
to their online selection of Siemens building automation technology products.
Siemens is an industry-leading manufacturer of building automation systems and components. Siemens room pressure monitors are designed to provide differential pressure monitoring for critical environments. These devices are meant for indoor use only, and provide alarm, monitoring, and communication capabilities. Ideal applications include:
Organic laboratories
Research laboratories
Clean rooms
Animal research spaces
Pharmaceutical spaces
Surgical suites
Intensive care unit isolation rooms
The addition of room pressure monitors further expands HVAC Brain's current offering of Siemens building automation technology equipment. HVAC Brain carries a range of automation components designed for new installations as well as replacements which provide elite energy and environmental control. Siemens automation components sold online by HVAC Brain include management stations and expansion models, point pickup modules, sensors, standard and pneumatic controls, speed drivers, thermostats, wireless equipment, and more.
HVAC Brain's selection of Siemens room pressure monitors are priced competitively, with free shipping and technical support. To view HVAC Brain's online inventory of Siemens room pressure monitors, please visit
http://www.hvacbrain.com/Room-Pressure-Monitor-s/5149.htm
.
Why shop at HVACbrain.com:
HVAC Brain, Inc. is a fast growing retailer of HVAC/R equipment and replacement parts. At HVACbrain.com, HVAC professionals and maintenance managers can find a wide variety of 'hand-picked' high quality HVAC products such as air conditioning units, actuators and valves, compressors, motors, and coils. With HVAC Brain's tight vendor relationships, customers can choose and order products without worrying about the quality of products HVAC Brain offers.
Contact Info: HVAC Brain, Inc. 9545 Midwest Avenue, Unit A - Cleveland, Ohio 44125, 216-663-4822,
info@hvacbrain.com
.