"The Great Hall", an Iconic Downtown Toronto Heritage Building and Multi-Use Event Space, Gets Enhanced and Revitalized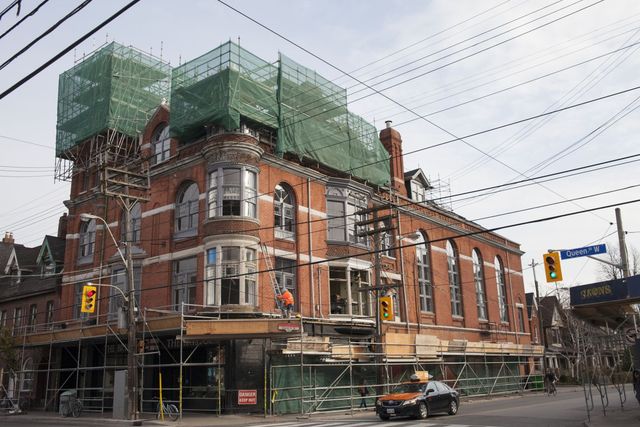 Exterior restoration of West Queen West landmark nearly complete; new venues ready for Spring 2016
TORONTO, January 8, 2016 – West-end Toronto will soon have a freshly renewed old favourite place to meet, celebrate and be entertained.
The Great Hall
, a hub of urban culture and community since its construction at the southeast corner of Queen and Dovercourt in 1889, is being redone top-to-bottom, inside and out, to increase the
landmark building's
capacity, enhance functionality and restore the historic charm of its interior.
The Great Hall is known for its convenient and vibrant location, the size of its two largest
venues
and a 126-year track record of hosting everything from concerts, weddings and celebrity events to, even in recent weeks, our now Prime Minister and some of the world's best-known corporations. However, the unique, multi-use facility has been hampered by limited capacity, a lack of accessibility, decades of patchwork alterations and wear-and-tear.
Planning to properly renovate a building that fortunately received official heritage designation in 1985 has been a painstaking behind-the-scenes effort for nearly two years. Now, The Great Hall team is excited to be closing in on their goal: offering a seamless, year-round experience to a wider range of clients and attendees, thanks, in part, to all-new common areas, HVAC, facilities, elevator access, and audio-visual equipment.
"Integrating all the features today's event-goers expect into a still-running venue that's well over a century old is definitely a challenge," says Production Manager Mark Foster.
"But that mix of cool, modern energy, artistic detail and historic space is what makes The Great Hall different and memorable. Preserving while innovating is also a big part of the overall West Queen West neighbourhood revitalization story. Blending traditional and cutting-edge is definitely a culture we're working hard to continue."
RUNNING TRACK TO BALCONY
Foster and the rest of The Great Hall's team are keen to see how returning visitors and new clientele respond to restored period features like the raised wooden running track from the building's original role as Toronto's first West End YMCA. That track is becoming the balcony for a completely revamped lower level venue that Foster knows will be a major draw.
"We're taking this hidden Great Hall gem that was once the place where famed distance runner and Boston Marathon winner Tom Longboat and dairy and chocolate magnate Morden Neilson both trained, polishing it up and bringing it to life for all kinds of new uses," Foster notes.
A true mixed-used building, The Great Hall also encompasses extensive ground floor retail space which houses a restaurant, as well as a full floor of rental offices.
UNDER THE DOME
Work is already nearing completion on the exterior restoration of the stately four-storey Victorian. The Great Hall's red brickwork is being replaced and repointed. All of the windows have been refurbished, maintaining original glass panes and frame woodwork wherever possible. Decorative Port Credit sandstone details will be cleaned to remove years of traffic grime.
The most extensive exterior work involves the massive peaked roof and, so, remains largely unseen. However, The Great Hall's singular corner tower and steel dome are also being returned to their original burnished glory. Once re-clad, they will make a fitting finish to this Romanesque Revival structure designed by Gordon & Helliwell, a Toronto architecture firm better known for designing many of the city's major churches.
"We want this wonderful building to showcase its rich history, comfortably welcome the public, and benefit all our tenants, as well as our community," confirms Steve Metlitski of
Triangle Development
, The Great Hall's project management group.
"The countdown to The Great Hall's revival is on and we look forward to sharing it with everyone very soon – stay tuned."
ABOUT THE GREAT HALL, TORONTO
Since 1889, The Great Hall has been a focal point of Toronto community and current events. Founded by captain of industry Samuel J. Moore to house the West End YMCA, The Great Hall quickly became a hub for public entertainment, speeches, well baby clinics, a major newspaper, and even temporary accommodations for WWII refugees. By the mid-1980s, it housed important cultural institutions like the Toronto School of Art, the Music Gallery and the Theatre Centre. Today, it continues to be voted one of the "Best Live Music Venues in Toronto" while hosting everyone from political party leaders and stand-out figures in the arts to top corporations and memorable weddings. To explore and book this true multi-use venue, go to
thegreathall.ca
or call 416-792-1268. Find out what's on and follow restoration milestones on Twitter
@GreatHallTO
, Instagram
@thegreathall
and Facebook
www.facebook.com/TheGreatHallToronto
and follow The Great Hall's
blog
.
Email The Great Hall Toronto