Harvard-Trained Dentist Opens Comprehensive Dental Clinic in Fresno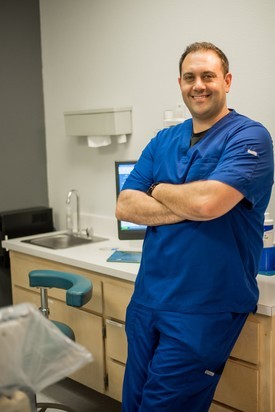 January 19, 2016 - Fresno, CA
– Ryan Dunlop, DMD's new dental office, Better Life Center for Implant & General Dentistry, marks six months serving the Fresno community.
While Better Life Center opened its doors in 2015, Dr. Dunlop has been in practice for almost 10 years, helping patients in his community find life-changing solutions to dental problems that have diminished their quality of life. Of particular note is Better Life Center for Implants & General Dentistry's on-site dental lab, 3D imaging, and Dr. Dunlop's IV sedation certification, all of which enable him to provide expert smile transformations for his patients in as little as one appointment.
Dr. Dunlop states, "In my experience treating patients whose smiles need comprehensive care, I know they've been struggling with less-than-comfortable prosthetics, like dentures, for years. They don't want to go through additional, extensive dental work to get the smiles they want. I created my dental office to provide the best of modern technology and treatment methods to affordably, safely, and conveniently perform significant smile transformations for my patients."
With his training, knowledge, and advanced treatment aids, Dr. Dunlop can place and restore implants in one day, even for patients seeking whole new smiles with implant dentistry. Dr. Dunlop happily welcomes patients from all over the state and country for permanent teeth replacements and complete cosmetic, functional smile restorations. In addition to implant services, Better Life Center can offer patients in the Fresno community and beyond the benefits of a complete cosmetic treatment plan, from start to finish, in one appointment.
"The combination of IV sedation, my on-site dental lab, and chair-side 3D imaging helps me provide same-day care for my patients," Dr. Dunlop explains. "I am able to comfortably and deeply relax my patients and create any prosthetics needed in my own office, allowing for complete smile transformations to take place in just one visit. My patients can achieve renewed oral health, function, appearance, and overall wellness."
Dr. Dunlop has placed over 5,000 implants and restored over 14,000 teeth with dental implants in his career. He has also conducted over 1,000 sedations. Better Life Center for Implants & General Dentistry offers single and full implants, as well as veneers, teeth whitening, and even Botox for aesthetic smile enhancement.. For more information, visit
betterlifedentistry.com
.
About Ryan Dunlop, DMD
Dr. Dunlop completed his undergraduate work at UCLA, where he studied Anthropology and conducted research on Burning Mouth Syndrome at the UCLA School of Dentistry. He later attended Harvard Dental School, during which time he won numerous clinical and research awards and was published in the prestigious Journal of Prosthodontics in 2007. Dr. Dunlop was president of the Harvard Dental School from 2003 to 2006 and is proud to be the only Harvard-trained dentist in the Central Valley. He was also Chief Resident during his two year residency at the Mt. Sinai Medical Center in New York City, overseeing thousands of implant cases.
Dr. Dunlop has received many awards from the AGD and ICOI as well as the Harvard Dental School. He has also conducted dozens of lectures and hands-on training seminars for other dentists all over the country. Since moving to Fresno, Dr. Dunlop has helped thousands of Central Valley residents change their lives with dental implants and sedation.
Email Better Life Center for Implant & General Dentistry