Christensen Shipyards Picks Industry Veteran Gilbert As Its Interim President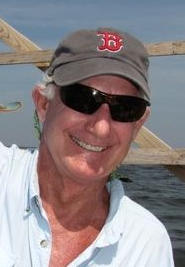 January 14, 2016 - Vancouver, WA – The ownership of highly respected yacht builder Christensen Shipyards announced today it is appointing Jim Gilbert, founding editor-in-chief and former president of ShowBoats International magazine as its president.
Christensen Shipyards, which reorganized last year after its former management was forced into closing its doors, is now back to full production with four large yachts under construction.
The appointment was announced by the company's chairman, Henry Luken of Chattanooga TN, a longtime Christensen yacht owner. Luken, who has been a significant shareholder in the shipyard since the mid-1990s, was joined in the announcement by another Christensen yacht owner and the company's other major shareholder. Luken was a shareholder in ShowMedia LLC, the holding company for ShowBoats International, when Gilbert and other shareholders sold the magazine group to Curtco Media, publishers of The Robb Report, in 2004.
"I've known Jim for many years both as a friend and as a business partner. He's a creative, highly knowledgeable and deeply respected member of the large yacht community, an experienced manager and someone who shares our vision of taking Christensen to the next level of success."
Since the sale of ShowBoats International, Gilbert has spent his time writing and providing strategic services for a small group of selected clients through his company, ViewPoint Consulting. "I was upset last year to learn of Christensen's financial turmoil, which was not due to a lack of quality or perceived value of the yard's production, but simply a matter of poor management. I've known Dave Christensen for more than 20 years. His unique vision of a yacht owner building the finest, most user-friendly yachts in the industry for other owners is as valid today as it was when he first started building boats back in the early 1980s. Henry and his partner want to refine and expand this heritage, and I'm honored they have asked me to help them lay the groundwork for turning Christensen into the most progressive, innovative, and owner-friendly yacht builder in the world.
"In all my years as a superyacht editor and publisher I appreciated how Christensen was universally regarded for the quality of its construction, systems, and especially for its superlative finishes. I look forward to working with the company's owners – who bring a history of remarkable successes in the ultra-sophisticated field of telecommunications — to create a shipyard capable of both lowering costs and increasing quality, while at the
same time significantly enhancing a owner's experience of building a large custom yacht."
Luken said, "My partner and I know Jim's reputation in the industry coincides precisely with our own philosophy of absolute honesty, integrity and transparency in our business dealings."
Christensen currently has four yachts under construction in varying degrees of completion. Several of projects are available for purchase. They are all ABS-classed yachts between 160' and 164' and include both MCA and non-MCA compliant hulls.
For more information please contact:
Jim Gilbert
954-770-9624
jim.gilbert.csl@gmail.com
ABOUT CHRISTENSEN SHIPYARDS:
Christensen Shipyards was founded in 1983 in Vancouver, Washington by Dave Christensen, and builds state of the art yachts of 120' and more for discerning clients who recognize Christensen's global reputation. Christensen Shipyards has been a staple in the yachting community and the Pacific Northwest for over 30 years. The shipyard encompasses over 300,000 sq. ft. of climate controlled manufacturing space and employs over 100 craftspeople. State of the Art facilities and modern manufacturing techniques enable Christensen to adhere to high manufacturing standards and build yachts of unsurpassed quality and beauty.
ABOUT JIM GILBERT:
A veteran of more than 30 years in the yachting industry, Jim began his career as a newspaper reporter and editor in New England and later in San Juan, Puerto Rico. His first yacht journalist position was at Cruising World based in Newport, RI. He became the editor-in-chief of Seven Seas Press, a leading nautical book publisher and in 1986 became editor-in-chief of TheYacht magazine. In 1988 he moved to Fort Lauderdale, FL, where he became ShowBoats International magazine's founding editor-in-chief.
The recipient in 2005 of the SuperYacht Society's coveted Leadership Award, Gilbert was also instrumental in launching the ShowBoats Rendezvous in Monaco, the luxury yacht industry's first international owner's event, during which Jim hosted the annual ShowBoats Awards. Another industry first, the ShowBoats Awards honored the best yachts launched in the previous year. He also hosted the Bal de la Mer charity gala during the Rendezvous, which raised millions of dollars for marine conservation and honored many luminaries with the SeaKeeper Award for their important work protecting and preserving the sea. These include HSH Prince Rainier, Dr. Sylvia Earle, Michael Gorbachev, Jean-Michel Cousteau, James Cameron, HRH Prince Khaled to name a few recipients. He was also a founder and later board president of the International SeaKeepers Society.
Jim is the author of a novel, The Admiral (Christopher Matthews Press), a futuristic tale about a reclusive community of sailors in the middle of the Atlantic riding out the devastation on land from sea level rise. He spends his time between residences on Cape Cod, Miami Beach and Otavalo, Ecuador, where he retreats to write his novels. He is an avid surfer, sailor and flyfisherman. His children, Caleb and Alexis, and grandchild, Abigail, live in the Boston area.
Contact Information
John Lance
Christensen Shipyards
Contact Us
Email Christensen Shipyards