Discover the Secrets to Salon Quality Hair at Home with Help From Studio Booth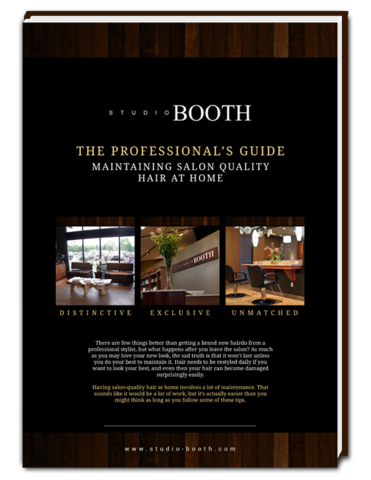 January 19, 2016 - There are few things quite better than getting a brand new hairdo from your professional salon stylist, but what happens after you leave the salon? Make sure that your new look is built to last and maintain your salon quality hair at home with help from Studio Booth's free guide, 'The Professional's Guide: Maintaining Salon Quality Hair at Home.'
While maintaining your salon-quality hair for the months between cuts can be difficult at first, it doesn't take too much hard work to keep your look lasting and looking as good as new each and every day. Working closely alongside your stylist, you can keep that look you love for months.
The first step to maintaining your salon-quality new hairdo is to know your hair. Hair is as unique as the person it belongs to, so work with your stylist to understand what kind of hair you have. Once you understand your hair a bit more, your salon stylist will be able to steer you towards the best styling, conditioning and washing products that actively works to protect your hair's health while providing you with a long-lasting look.
Even with specialty salon hair care products, it's important to remember that using these too often can dry out your hair and rid it of its natural oils. Instead of washing every day, use shampoo every other day at most, while avoiding any hair product that contains sulfates and parabens to protect your hair's health and preserve its look and shine.
When it comes to styling and drying your hair, opt to air dry whenever possible and avoid the heat damage your hair can take on from using a blow dryer. Once your hair is completely dry, use a hairbrush that has natural bristles with rounded ends to gently style and shape your hair to your liking.
Whenever handling your hair, it's important to be as gentle as can be. Trying not to be too aggressive with your hair will only enhance your look. Don't forget the importance of a well-balanced diet to your hair's health either. Vitamins A, C and E all help to keep your hair looking shiny, and plenty of protein helps promote healthy hair growth.
If you're looking for a look that lasts well after you leave the salon, download the free guide to maintaining salon-quality hair at home by visiting
http://studio-booth.com/offers/
.
For all the latest looks that are sure to turn heads, visit Studio Booth's luxury salon and spa in Shadyside. For years, Studio Booth has been providing guests from all across the Pittsburgh area with impeccable service and stunning looks made to last. If you're looking for your next look, schedule an appointment with one of Studio Booth's talented stylist today by visiting
http://www.studio-booth.com/
.