Koolfog Recommends Incorporating Misting Systems in the Design Phase to Help Builders Set Themselves Apart From the Competition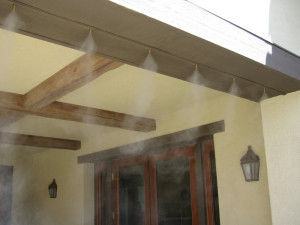 January 21, 2016 - Are you a builder looking for more business in the New Year? Anticipating client needs and offering innovative designs and solutions can set you apart from your competition. Incorporating these features into the build phase and avoiding later retrofitting can make you a hero. Koolfog works directly with builders to create tailored misting systems incorporated during construction to best manage design, aesthetics and costs.
Benefits of Incorporating Misting Systems in Design
When you plan ahead to incorporate misting systems into the new construction of a property, you can take advantage of the best possible design options. Built-in misters can be integrated into the structure and style of the space creating the most attractive or even "hidden" design. This is the best option for functional design as well; to plan accordingly for size and performance. Finally, the cost of the misting system can be absorbed into the overall cost of construction rather than an annoying add-on later. Homeowners appreciate the built-in look and the seamless process; you'll appreciate the additional revenue.
Know Your Market
Although most people expect that the summer gets really hot, many homeowners – and even builders – don't understand how effective misting systems are to cool patios and extend outdoor living into the warmer months. Misters can reduce the ambient temperature by 20-30 degrees. Anticipating and providing this solution during the planning stages can help you stand out from other builders.
Work with Koolfog
At Koolfog, we pride ourselves on strong partnerships with builders, architects, and contractors, collaborating to provide tailored misting system solutions for almost any structural design. We will work with you through all phases from idea to installation. With the latest technology, thoughtful engineering, and meticulous design we strive to achieve the highest level of customer satisfaction.
This year, set your business apart with advanced knowledge of incorporating misting systems into your new builds. Give us a call at 760.321.9203 or email to set up an informational meeting. You'll impress your clients with your expertise in misting systems, and that can help keep the whole construction process cool.
About Koolfog
Koolfog specializes in enhancing outdoor environments, making them more comfortable, functional and sensible using outdoor cooling and humidification solutions, scenting systems, fog effects systems and outdoor heaters. For over two decades Koolfog has designed and developed sensory technologies that provide enhanced comfort and enjoyment for people, plants and animals. Koolfog is in use by restaurants, resorts, wineries, retail centers, theme parks, recreational spaces, fire, military and search and rescue training, equestrian facilities, dairies, greenhouses and private estates. Through creative design and innovation, Koolfog balances performance and aesthetics by delivering products that seamlessly integrate into landscapes and architectural spaces. Koolfog products are available worldwide through direct sales and distribution. For more information:
koolfog.com
.