Abilify Lawsuits Involving Allegations of Compulsive Gambling Now Being Investigated by the Nationwide Law Firm of Bernstein Liebhard LLP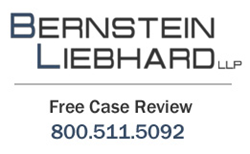 January 25, 2016 - The nationwide law firm of Bernstein Liebhard LLP is now investigating Abilify lawsuits (
http://www.rxinjuryhelp.com/abilify/lawsuit/
) on behalf of individuals who allegedly developed a compulsive gambling habit due to use of the atypical antipsychotic medication. A number of product liability claims recently filed in U.S. courts allege that Bristol-Myers Squibb Co. and Otsuka Pharmaceutical Co. failed to provide doctors and patients with adequate warnings regarding Abilify's potential to cause compulsive behaviors, including pathological gambling addictions.
"Pathological gambling can take a devastating toll on an individual's personal and professional life. Abilify patients who allegedly developed such a compulsion due to their use of this medication may be entitled to compensation for their financial losses and other related damages," says Sandy A. Liebhard, a partner at Bernstein Liebhard LLP. The Firm is now offering free, no-obligation case reviews to Abilify patients whose compulsive gambling habit was allegedly caused by this medication.
Abilify Litigation
Abilify (aripiprazole ) is an atypical antipsychotic used to treat schizophrenia, bi-polar disorder and other psychiatric disorders in adults and children. The medication is marketed by Bristol-Myers Squibb and Otsuka Pharmaceutical Co. Among other things, Abilify impacts dopamine, a neurotransmitter that helps control the brain's reward and pleasure centers.
On January 20th,
Courthouse News Service
reported that an Abilify lawsuit had been filed in New Jersey's Bergen County Superior Court on behalf of a man who claims to have developed a gambling addiction shortly after he began using Abilify in December 2010. The Plaintiff further claims that he was able to stop compulsively gambling after he ceased treatment with the drug in August 2013. According to Courthouse News Service, two additional claims involving Abilify and compulsive gambling allegations were filed on January 13th in the U.S. District Court, Middle District of Florida.
Court records further indicate that on January 12th, a fourth Abilify lawsuit was filed in the U.S. District Court, District of Minnesota, by a woman who allegedly incurred gambling losses in excess of $75,000 due to side effects associated with the medication. (Case No. 0:16-cv-00067)
According to these complaints, dopaminergic reward pathways have frequently been implicated in the etiology of addictive behavior. Among other things, the lawsuits point out that scientific literature has identified dopamine as a potential cause of pathological gambling for years. Plaintiffs further note that in 2012, the European Medicines Agency required that defendants warn patients and the medical community in Europe that Abilify might be associated with pathological gambling. In November 2015,
Health Canada
warned that Abilify may be linked to certain compulsive behaviors, including a possible risk of pathological gambling . Yet the U.S. label for the medication fails to mention that pathological gambling has been reported in patients prescribed Abilify.
Individuals who allegedly incurred significant gambling losses and other damages due to the side effects of Abilify may be entitled to compensation.
To learn more
about filing an Abilify lawsuit, please visit Bernstein Liebhard LLP's website, or call the Firm directly at 800-511-5092.
About Bernstein Liebhard LLP
Bernstein Liebhard LLP is a New York-based law firm exclusively representing injured persons in complex individual and class action lawsuits nationwide since 1993. As a national law firm, Bernstein Liebhard LLP possesses all of the legal and financial resources required to successfully challenge billion dollar pharmaceutical and medical device companies. As a result, our attorneys and legal staff have been able to recover more than $3.5 billion on behalf of our clients. The Firm was named by The National Law Journal to the Plaintiffs' Hot List, recognizing the top plaintiffs firms in the country, for 12 consecutive years. Bernstein Liebhard LLP is the only firm in the country to be named to this prestigious list for a dozen consecutive years.
Bernstein Liebhard LLP
10 East 40th Street
New York, New York 10016
800-511-5092
ATTORNEY ADVERTISING. © 2016 Bernstein Liebhard LLP. The law firm responsible for this advertisement is Bernstein Liebhard LLP, 10 East 40th Street, New York, New York 10016, 800-511-5092. Prior results do not guarantee or predict a similar outcome with respect to any future matter.
Contact Information:
Sandy A. Liebhard, Esq.
Bernstein Liebhard LLP
info (at)consumerinjurylawyers(dot)com
http://www.rxinjuryhelp.com/news/
https://plus.google.com/115936073311125306742?rel=author