3V Gear Posse EDC Sling Pack - Compact, Discreet, and Lethal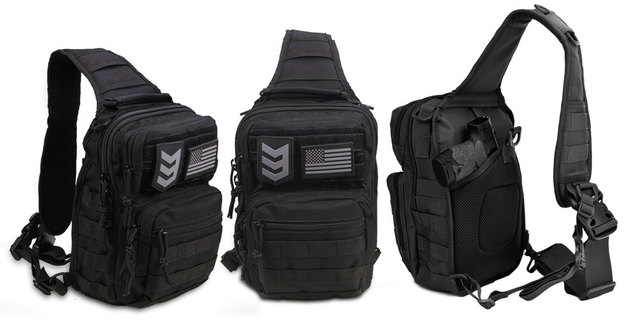 The Posse is a conceal carry shoulder bag that can be worn on either shoulder. This is a great option for a concealed carry bag for men and women. It is small enough to carry the essentials while traveling or everyday excursions.
The back of this concealed carry pack has a pouch with a loop field for use with conceal carry holsters, secured by a strapped snap and D-Ring for easy access. If you want to carry the firearm in the pack there is divider with a loop field in the main compartment of the Posse that is easily accessed through self-healing zippers.
Front pocket: 8" x 8" x 1" with divider, keeper, elastic mag loops, drainage grommet
Front slip pocket: 6" x 4" with elastic mag loops and keeper pocket
Main compartment: 12" x 8" x 4", front and back divider, internal zippered pouch for keys
Rear pocket: 6" h x 8" w with internal loop field for CCW, button closure
Shoulder strap: Ambidextrous. Integrated 2" webbing and buckle, can be concealed in rear
Rugged 600 Denier PVC backed polyester construction
Measures (Expanded): 12"L x 4"W x 9"H
Weight: 1.6 lbs
Available now at
3vgear.com