GreenRope Officially on Zapier to Integrate with Everything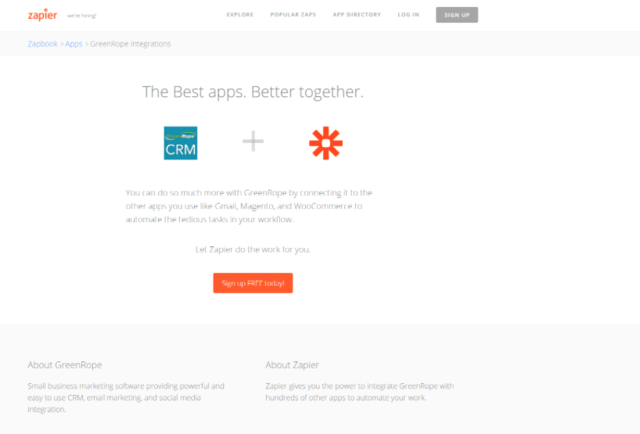 SAN DIEGO, CALIFORNIA – January 28, 2016
– GreenRope, a leading CRM and marketing automation platform, announces the launch of their integration with Zapier making it easy for users to sync up all the apps they use most.
"Zapier is an incredible company. Our mission has always been complete integration, and now that we are on Zapier, we truly sync up with everything. We want people to be able to use the apps they use most and make it easy for them to link to GreenRope," explains Lars Helgeson, CEO and Founder of GreenRope.
Zapier is a web automation platform that allows businesses to connect hundreds of the best-in-breed web services, such as GoToWebinar, Gmail, Evernote, GreenRope, and many more. The company makes it easy for non-developers to connect all of their most frequently uses apps together, saving time and improving productivity.
Zaps are automations that Zapier triggers, which connects two applications together. A popular GreenRope Zap includes creating a new contact in GreenRope. Whether you use Salesforce, Gmail, Outlook, etc., you can automatically add a contact to your GreenRope account by creating a Zap. This contact can then be dropped into a drip campaign or trigger other actions, once established as a new contact. There are plenty of pre-made zaps to choose from, or you can create your own Zaps from scratch in the Zap Editor.
Keeping track of your contacts is the foundation for building long-lasting relationships. Zapier lets you connect whatever apps you use most to GreenRope, so you nobody slips through the cracks.
Here are a few ways users can use GreenRope's new Zapier integration:
Add new Google contacts to GreenRope
Add new GreenRope contacts to Google
Save Google Calendar events to GreenRope
Save new GreenRope events to Google
Queue GreenRope emails from Gmail
Create GreenRope activity from Gmail emails
Integrating and streamlining your processes has never been easier. While GreenRope helps you automate all of your efforts once a contact is created, Zapier helps you get the information you need into GreenRope automatically.
Read more about the GreenRope-Zapier integration.
About GreenRope
Lars Helgeson, who saw the need to make running a small to mid-sized business easier and more efficient, founded GreenRope. GreenRope's mission is to resolve the challenges of managing business operations by providing cloud-based integrated software that is effective, affordable, and user friendly. GreenRope streamlines key operations, including e-commerce and accounting, CRM, email marketing, mobile marketing, calendaring, websites, social media and more, into one easy-to-use platform. By using GreenRope, companies can reduce their marketing and CRM software expenses by an estimated 80%. GreenRope's affordable pricing plans start as low as $149/month. Visit
www.greenrope.com
for more information.