Concordia Releases Their Free Guide to Choosing Your Senior Care Services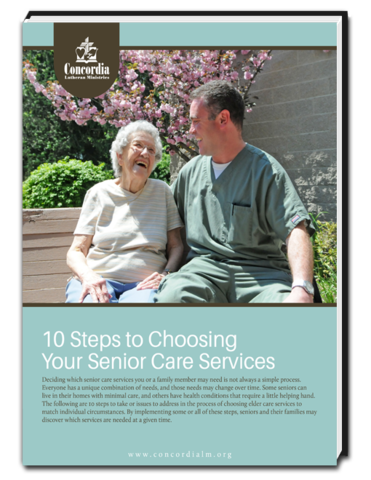 February 3, 2016 - Deciding on the right senior care services for yourself or those close to you is never an easy decision. No two people are the same, and everyone has a unique combination of service needs that can change over time. Don't let your health suffer; choose the right senior care services for you with help from Concordia Lutheran Ministries.
Inside their 10-step guide to choosing the right senior care services, Concordia helps seniors and their families discover the level of care that is the right fit for their individual needs. By this guide, seniors and their families can rest easy knowing that they will find a quality of care suitable to their needs.
One of the first steps in choosing the right senior care services is to identify and outline individual needs. Once you have a better idea of your needs, you can better determine what services to look for. After that, narrowing down your choice of senior care communities becomes much easier.
It might go without saying, but no one should make a decision on a senior living community without first scheduling a tour of the facilities. While you're visiting, make sure to ask any questions you have about their services, amenities or offerings. One of the top questions you will want to ask is whether the caregivers or professionals are up to date on their licensing, or if the facility is accredited.
Another thing you should ask on your visit is how much access you will have to medical equipment or physical therapy. As we age, many of us will likely need some extra support through physical therapy or assistive devices. Making sure that both of these are available to you in a timely manner can make a huge difference in your senior loved one's health and happiness.
Don't forget to look for alternative care options as well. Countless seniors function well enough in their homes as long as they can get some extra assistance through in-home personal care. Another thing to consider is if independent living (often called retirement living) options are the right choice for your needs. If a senior is living at home with minimal care, but just wants some additional security and sense of community in their lives, then an independent living retirement community may be exactly what they need.
Every senior deserves to make the most of his or her "golden" years. Make sure you or your loved ones are receiving the quality care they deserve by downloading your free guide at
http://www.concordialm.org/offers/
.
No matter what your care needs may be, odds are you can find just what you need at one of the senior care locations – or home and community services – offered by Concordia Lutheran Ministries. Our extensive care network includes just about everything you could want to lead a happier and healthier way of life – and at a price that is much more affordable than you realize. Schedule a tour of one of our facilities today, and find out what makes Concordia right for you by visiting
http://www.concordialm.org/
.
Email Concordia Lutheran Ministries