Start Properly Planning Your Estate with Help from Covelli Law Offices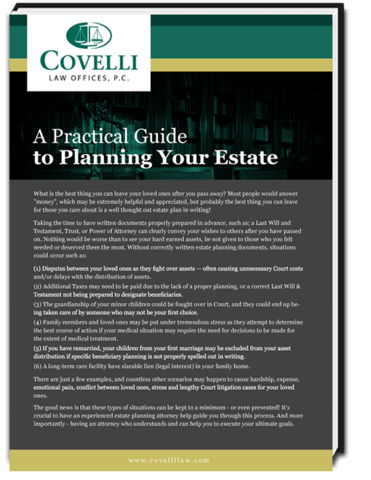 February 3, 2016 - Determining your individual estate planning needs is never easy, but it is absolutely critical to protecting yourself and your loved ones after you pass away. Make sure that you know how to properly plan your estate - with help from Covelli Law Offices.
Taking the time to have your Last Will and Testament, Trust, and Power of Attorney expertly prepared in advance will help to clearly convey your wishes to others. Nothing would be worse than to see your hard earned assets not be given to those you felt needed or deserved them the most.
Estate planning is more than just writing a Will, however. Taking the time to properly organize your assets now can help avoid family disputes. You can also avoid a majority of your estate being left in the hands of the court system, or chipped away at through State and Federal taxes.
These are just a few examples, and countless other scenarios which may arise causing hardship, expense, emotional pain, conflict between loved ones, stress and lengthy Court litigation for your loved ones. The good news is that these types of situations can be kept to a minimum - or even prevented.
Preparing your Last Will and Testament, proper granting of a (Health Care and Financial) Power of Attorney, and the proper titling of your assets - all can quickly become complex issues. It's crucial to have an experienced estate planning attorney to help guide you through this process. And more importantly – it is comforting to retain an attorney who understands and can help you execute your ultimate goals.
Each individual's situation and needs are unique. A qualified Attorney can help you to develop a personalized plan for estate planning, and determine the most beneficial protection for yourself and your loved ones. Make sure that you are fully prepared to plan your estate by downloading your free guide to estate planning at:
http://covellilaw.com/offers/
.
With over 50 years of combined legal experience, the local lawyers at Covelli Law Offices have the knowledge and expertise to help you navigate the estate planning process. If you are unsure if you need a Last Will and Testament, Power of Attorney or Trust documents – contact the team at Covelli Law Offices today and let their skilled attorneys guide you through planning your estate. For more information and to schedule a free initial consultation, visit
http://covellilaw.com/
today.
Email Covelli Law Offices, P.C.