Blood Clot Filter Lawsuits Move Forward, With Issuance of New Order in Bard IVC Filter Litigation, Bernstein Liebhard LLP Reports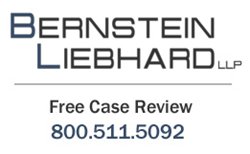 February 3, 2016 - The federal multidistrict litigation housing dozens of blood clot filter lawsuits involving C.R. Bard's G2 and
Recovery inferior vena cava (IVC) filters
continues to move forward in the U.S. District Court, District of Arizona. According to a Case Management Order dated February 2, 2016, the Court has adopted a schedule for the second phase of discovery which, among other things, stipulates that all fact discovery be completed by October 28, 2016. Expert witness depositions are to be completed no later than May 19, 2017. The Order further directs the parties to confer and seek to agree on procedures to govern the selection of specific IVC filter lawsuits for the litigation's bellwether trials. A stipulation or joint submission pertaining to this matter is to be filed with the Court by March 1, 2016. (In Re: Bard IVC Filters Products Liability Litigation – MDL No. 2641)
"Our Firm continues to receive inquiries from patients who suffered serious injuries allegedly related to the malfunction of a Bard IVC filter. We are pleased to see that discovery is progressing in these cases, and that the Court is preparing to initiate the process of bellwether trial selection. The outcomes of these trials could provide valuable insight into how juries might decide similar claims," says Sandy A. Liebhard LLP, a partner at Bernstein Liebhard LLP, a nationwide law firm representing victims of defective drugs and medical devices. The Firm is currently evaluating IVC filter lawsuits on behalf of individuals who may have been seriously injured by C.R. Bard's Recovery and G2 blood clot filters.
IVC Filter Litigation
At least 78 IVC filter lawsuits have been filed in the District of Arizona on behalf of patients who allegedly sustained serious injuries due to the tilting, fracture or migration of a Bard Recovery or G2 blood clot filter. The devices are implanted in the inferior vena cava in patients at risk for blood clots, and for whom standard anticoagulant medications are inappropriate. Once in place, the small, wire devices intercept clots before they can travel to the heart and lungs, and become a life-threatening pulmonary embolism.
Both the G2 and Recovery devices are intended to be retrieved once the threat of blood clots has passed. However, all of the complaints pending in Arizona accuse C.R. Bard of failing to provide doctors with adequate warnings regarding the importance of IVC filter removal. Plaintiffs also allege that the filters are associated with high rates of fracture, migration and tilting, which may result in perforation of the inferior vena cava, embolization and other life-threatening complications.
The
U.S. Food & Drug Administration (FDA)
has issued public advisories on two occasions regarding serious complications involving IVC filters, many of which may have been related to the failure to remove a retrievable device. Complications noted by the FDA included filter migration, fracture, embolization (movement of the entire filter or fracture fragments to the heart or lungs), perforation of the IVC, and difficulty removing the device. Some of these events led to adverse clinical outcomes for patients.
Bernstein Liebhard LLP is now offering free IVC lawsuit reviews to individuals who suffered complications allegedly associated with C.R. Bard's Recovery or G2 devices.
To learn more
about filing a blood clot filter lawsuit, please visit the Firm's website, or call 800-511-5092 to arrange for a free, no-obligation legal consultation.
About Bernstein Liebhard LLP
Bernstein Liebhard LLP is a New York-based law firm exclusively representing injured persons in complex individual and class action lawsuits nationwide since 1993. As a national law firm, Bernstein Liebhard LLP possesses all of the legal and financial resources required to successfully challenge billion dollar pharmaceutical and medical device companies. As a result, our attorneys and legal staff have been able to recover more than $3.5 billion on behalf of our clients. The Firm was named by The National Law Journal to the Plaintiffs' Hot List, recognizing the top plaintiffs firms in the country, for 12 consecutive years. Bernstein Liebhard LLP is the only firm in the country to be named to this prestigious list for a dozen consecutive years.
Bernstein Liebhard LLP
10 East 40th Street
New York, New York 10016
800-511-5092
ATTORNEY ADVERTISING. © 2016 Bernstein Liebhard LLP. The law firm responsible for this advertisement is Bernstein Liebhard LLP, 10 East 40th Street, New York, New York 10016, 800-511-5092. Prior results do not guarantee or predict a similar outcome with respect to any future matter.
Contact Information:
Sandy A. Liebhard, Esq.
Bernstein Liebhard LLP
info(at)consumerinjurylawyers(dot)com
http://www.rxinjuryhelp.com/
https://plus.google.com/115936073311125306742?rel=author