Smartmedical Launches Website for its Vocal Emotion Recognition Technology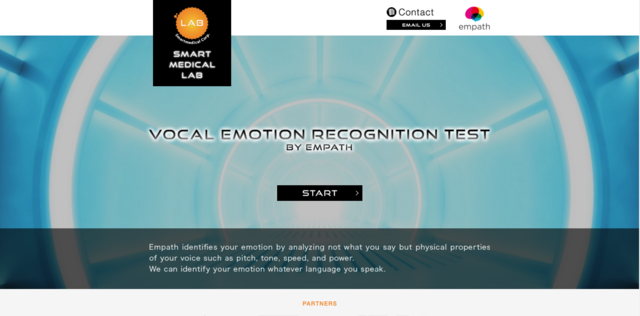 TOKYO, February 10, 2016 - Smartmedical, which develops and licenses vocal emotion technology, announces the launch of its website,
webempath.net/lp-eng/
. This new website is accessible, efficient, and offers a comprehensive understanding of Empath, a vocal emotion recognition technology. The website also introduces web Empath API, which will be available early 2016.
"By analyzing multiple physical properties of your voice such as intonation, pitch, speed, and volume, Empath can identify your emotion in real-time" says Takaaki Shimoji, a Smartmedical Corp board director. "Empath focuses on not what you say but how you say it, so it can detect your emotion regardless of the language you speak."
Smartmedical is also launching web Empath API for developers. The website offers registration for a web Empath API key, which will be available early this year. The API will help developers to innovate by creating customized applications. Empath is incorporated into various applications just by adding sample codes to a website. With a program that sends WAVE files to the API, Empath is functional across multiple platforms: Windows, iOS, and Android OS. In addition, it is easy to use the API as an M2M and IoT sensor. "Web Empath API provides easy access to our emotion recognition technology. We expect API will enable us to connect with imaginative developers all over the world. There is great potential," added Mr. Shimoji.
The website features a ninja video game that demonstrates the emotion recognition experience. This classic video game is unique in that it can identify emotion from vocal inputs. "This ninja game identifies your level of anger. Shout at the screen! If your level of anger is high, you can beat an enemy. It also gives you a report of your emotional state. This simple demo of our technology provides a completely new gaming experience. This is an example of potential use cases for developers."
About Smartmedical – Heart to Heart Mind/Body Health Care
Smartmedical Corp., comprised of PCC and ICT self-care divisions, is the leading authority in developing PCC (Primary Care Clinics), new medical service platforms at and near railway stations in Tokyo and major cities in Japan that provides preventive medical products and services. ICT self-care division supports PCC project with its advanced ICT technology. It develops and licenses the Empath vocal emotion recognition technology for mental health care. In addition to mental health care, Empath has potential applications for multiple service sectors such as robotics, call centers, and VR.
By analyzing multiple physical properties of the voice such as intonation, pitch, speed, and volume, Empath can identify emotions in real-time regardless of the language. It has been developed and refined through collaborative research with prestigious universities such as the University of Tokyo and Nara Institute of Science and Technology. Empath won the Japan Resilience Award 2015 grand prize and an excellence award at MCPC 2015.
For more information on Empath, please visit
https://webempath.net/lp-eng/
.
Media Contact:
Hazumu Yamazaki
R&D Manager of ICT Self-care Division
E.
yamazaki@smartmedical.jp
P. +81-(0)3-3230-4010