BioActive Nutrients Celebrates Recent Sweep of Industry Awards with Launch of Two New Products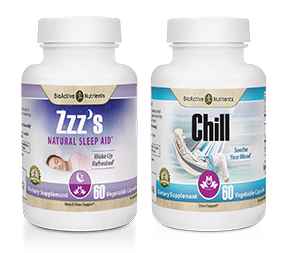 February 17, 2016 - Spooner, Wisc
. - Spooner-based
BioActive Nutrients
is celebrating a recent sweep of
industry awards
with the launch of two new products designed to help dial back stress and prepare for restful sleep.
The new products are a natural addition to the company's product line, says Guy Evans, head of BioActive Nutrients. "Our whole company philosophy is based on supporting a lifestyle of healthy eating, exercise, and maintaining a strong immune system. But stress or lack of sleep can undermine the best intentions." Both supplements are specially formulated with unique combinations of natural ingredients that support relaxation without side effects:
Zzz's contains two amino acids that work with the body to calm the muscles and nervous system, as well as a sleep-promoting combination of valerian root, lemon balm, chamomile, and the herb ashwagandha, designed to allow for restful, rejuvenating sleep with no hangover effect.

Chill is a milder formulation of some of those same ingredients that naturally helps the body relax without causing drowsiness.
The latest product launch comes on the heels of the company being named Company of the Year by the nationally syndicated SuperHealth Radio, hosted by industry insider Kyle Drew. SuperHealth also honored the company with its Value-Priced Company of the Year accolade, and four other product awards.
About BioActive Nutrients:
Bioactive Nutrients began selling its unique multivitamin formulation in northern Wisconsin 20 years ago. It has been in its current location on Roundhouse Road in Spooner for 15 years. More information about the company and its full line of natural products is available at the company's website,
www.bioactivenutrients.com
Email BioActive Nutrients