Mr. John Details Just How Important Cleanliness Is When Hosting an Outdoor Event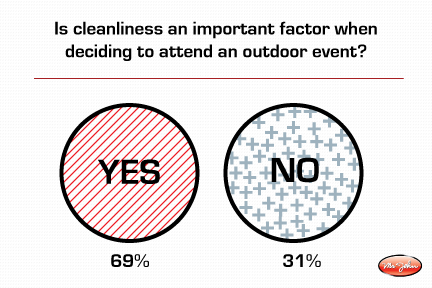 February 18, 2016 - Arranging a big event is certainly a lot of work. With so much planning and preparation happening in the days before an outdoor event, making arrangements to keep the venue clean can often become an afterthought. However, cleanliness can ultimately determine just how successful your event ends up.
In a recent survey conducted by the portable sanitation providers at Mr. John, nearly 70 percent of respondents agreed that cleanliness is among the top factors when deciding whether or not to attend an outdoor event. Regardless of its size, keeping your outdoor event clean may just be essential to its success.
No matter who your event's audience is, almost everyone agrees that cleanliness is a huge factor when deciding to attend an outdoor event. While it's easy to overlook the seemingly small detail of your event's sanitation planning, it's clear that keeping clean should be high on your priority list.
The first step toward keeping your outdoor event as clean as can be is to reach out to a professional sanitation provider. An experienced sanitation supplier will point you in the right direction of products, services and supplies you will need to ensure your day goes off without any problems.
One of the most essential parts of your sanitation plan should be portable toilets or restroom trailers. Having portable toilets on the premises can make the trip to the bathroom convenient and comfortable for all of your guests, and the wide variety of toilet rental options ensure that you'll find the perfect solution to your porta potty needs. Don't forget to make sure you accommodate for your guests who have special needs as well!
In addition to the porta potties you rent, you may want to add some sanitation accessories to your event. Preventing the spreading of germs and bacteria should be a top priority, especially if you are serving food or drinks during your event. That being said, having some hand-washing stations around the venue will give your guests plenty of opportunities to give their hands a good, thorough cleaning.
Cleanliness can easily make or break your outdoor event. Make sure you have a proper sanitation plan in place by visiting
https://www.mrjohnpit.com/does-cleanliness-really-count-when-hosting-an-outdoor-event-survey/
for tips and suggestions on how to get started.
Not all events are created equally. Make sure you take some time to provide your guests with the superior comfort and convenience of proper portable sanitation with help from Mr. John. Our high-quality customer service and wide range of porta potty rentals & sanitation supplies will ensure your event runs smoothly. Learn more about how we can keep your next event clean by visiting
www.mrjohnpit.com
.