GreenRope Brings Peace of Mind to Users with SendForensics Integration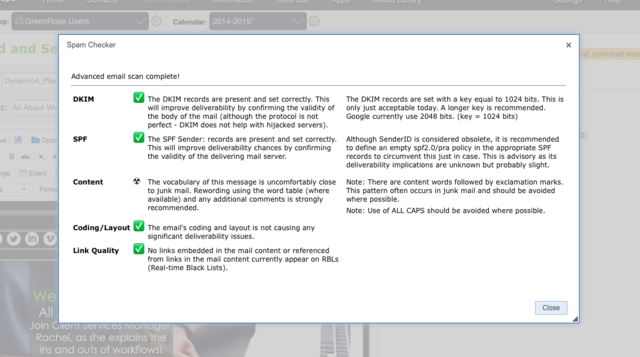 SAN DIEGO, CALIFORNIA – February 18, 2016 –
GreenRope
, a leading CRM and marketing automation platform, announces its partnership with SendForensics, letting all GreenRope users email in peace with realtime analytics about email content, deliverability issues, and more.
"SendForensics is delighted to be a part of GreenRope's ongoing email strategy. Empowering users with pre-emptive deliverability testing and optimization ensures industry-leading mailing performance joins an already stellar feature-set," explains CEO of SendForensics, Leo Hatton. "Kudos to the GreenRope team for the integration's seamless user-experience."
SendForensics allows GreenRope users to test the effects of their campaigns before they send it out. This integration ensures optimal deliverability for all of GreenRope's clients. Email remains one of the most effective marketing tactics, and making sure emails land in a recipient's inbox is critical for success.
SendForensics identifies the following in realtime:
SPF/DKIM/DMARC authentication records are present and properly setup
Content is free of problematic vocabulary and phrases which could trigger spam flags
Potential deliverability issues in the underlying coding and overall layout
Quality and effect of outgoing links
"SendForensics provides our users with immediate feedback about their deliverability before they send their messages. This means they can proactively take control of ways to ensure their messages get to the inbox. Combined with our industry leading reputation and anti-spam practices, GreenRope users enjoy the benefit of the best deliverability in the CRM and Marketing Automation space," explains CEO, Lars Helgeson.
GreenRope's already feature-rich platform is significantly enhanced with SendForensics, and gives all users peace of mind when sending out any email communication.
About GreenRope
Lars Helgeson, who saw the need to make running a small to mid-sized business easier and more efficient, founded GreenRope. GreenRope's mission is to resolve the challenges of managing business operations by providing cloud-based integrated software that is effective, affordable, and user friendly. GreenRope streamlines key operations, including e-commerce and accounting, CRM, email marketing, mobile marketing, calendaring, websites, social media and more, into one easy-to-use platform. By using GreenRope, companies can reduce their marketing and CRM software expenses by an estimated 80%. GreenRope's affordable pricing plans start as low as $149/month. Visit
www.greenrope.com
for more information.
About SendForensics
Headquartered in Singapore, SendForensics is a global provider of advanced email deliverability solutions for email marketers, digital agencies, high-volume senders and email service providers. Trusted by responsible senders worldwide. For more information, visit
https://www.sendforensics.com
.