Stranger Danger, Candy and Catalogs, Oh My! KNeoWorld Makes Risky Fundraising a Thing of the Past for Parents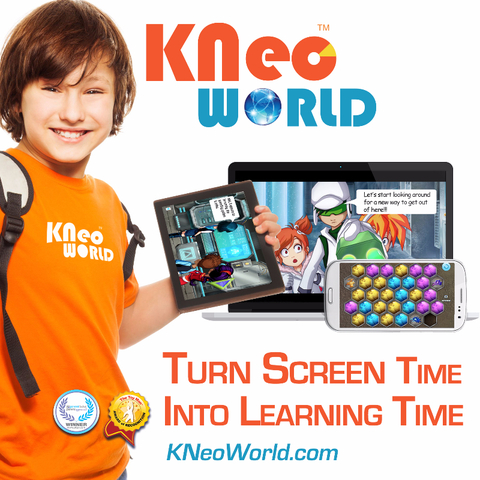 February 24, 2016 - Many parents teach their kids about "stranger danger" from a young age. So why would we send them out to sell candy and magazines to people we don't know? As schools and youth clubs continue to face cutbacks and financial hardship, many still rely on children to raise funds. This puts parents in a precarious position and as a result, many choose to opt-out of fundraising altogether.
KNeoWorld.com today announced the launch of their new fundraising tool that donates 50% of any KNeoWorld membership registered with an organization's fundraising code – all while reducing headaches for busy parents who are concerned about their children's well-being.
KNeoWorld is an adventure-based online learning series that is delivered as weekly episodes infused with mini-games. Kids join the KNeoExplorers on an epic quest to resettle the abandoned Planet Earth while learning and practicing academic and logical reasoning skills along the way. KNeoWorld is produced by a team of creatives and developers, whose resumes include companies like Nickelodeon, Disney and PBS. For just $4.99 a month or $50.00 a year, any parent can make screen time learning time with a three-player family membership.
Whether it's the safety issues that accompany kids selling door-to-door, the burden of investing money and hosting events, or health and allergy concerns over selling candy and food – parents have more than enough to worry about with traditional fundraising methods. KNeoWorld has designed a new generation fundraising tool that alleviates these 21st-century problems while providing a year-round, easy way to raise money for kids.
"As one of the first all-digital fundraisers, KNeoWorld's program takes hassle and guesswork out of the equation and allows parents to raise money for their kids' schools and clubs, year-round with minimal effort," says, KNeoWorld VP of Production and Development, Carlo Spicola. "Gone are the days where parents have to worry about their child's safety by sending them door-knocking or be expected to squeeze events into their hectic schedules. Simply sign up for our program and use our provided marketing materials to promote it to your community. It doesn't get much easier."
About KNeoWorld
We help pre-teens learn through imaginative gameplay and develop the academic and critical thinking skills they need to succeed in the 21st century. We work with a team of experts to create educational online games that work across devices to support learning and engagement in and out of the classroom. KNeoWorld's parent company, KNeoMedia Ltd. is based in Australia and publicly traded on the Australian Securities Exchange (ASX: KNM).