KNeoWorld Makes Screen Time That's Actually Good for Kids, Just as American Academy of Pediatrics Updates Tech Guidelines for Families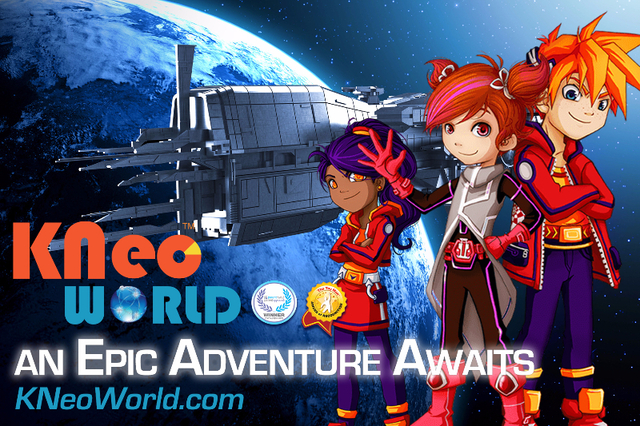 February 24, 2016 - KNeoWorld.com today announced the introduction of their award-winning online edutainment portal to the U.S. market. KNeoWorld's games are compatible with computers, tablets and smartphones, making them the ideal learning companion for families with pre-teens on the go. Its American release also comes at the perfect time because the American Academy of Pediatrics recently updated their longstanding "turn it off" stance in favor of allowing up to two hours of daily screen time.
As an episode-based online learning platform, KNeoWorld is breaking the mold of traditional educational games by presenting content as a weekly adventure series that kids will look forward to. In KNeoWorld's epic story, players join the KNeoExplorers on a quest to resettle the abandoned Planet Earth in the year 2253, using skills they learn along the way to overcome challenges and solve problems.
KNeoWorld has already seen success in the Australian market and is eager for the next phase, introducing their innovative edutainment product to American kids, parents and educators. They have opened a new office in New York's Times Square and boast a team of creatives, developers, educators and writers from companies like Nickelodeon and Disney.
While KNeoWorld's games foster skills in math, science, art and other academic subjects, they also require critical thinking, memory and logical reasoning to advance through the episodes. These are often called 21st-century skills and are essential for kids' success in today's world.
"We are so proud to bring KNeoWorld to the American market. Not only do the games help kids learn, but the stories also carry a positive message while being entertaining and engaging. The diverse cast of characters are relatable and are excellent role models for young people," says CEO, James Kellett. "The graphics are rich and colorful and help to propel you into a fantastic story."
KNeoWorld is available on a subscription basis, with a three-player monthly membership for $4.99 or an annual membership available for only $50.00 a year.
About KNeoWorld
We help pre-teens learn through imaginative gameplay and develop the academic and critical thinking skills they need to succeed. We work with a team of experts to create educational online games that work across devices to support learning and engagement in and out of the classroom. KNeoWorld's parent company, KNeoMedia Ltd. is based in Australia and publicly traded on the Australian Securities Exchange (ASX: KNM).