Staffing Industry Analysts Names Optomi one of the Best Staffing Firms to Work For®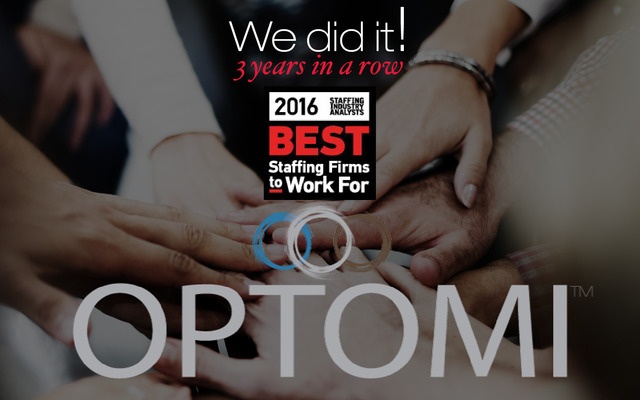 February 25, 2016 - During its Executive Forum award ceremony yesterday, Staffing Industry Analysts announced
Optomi
as a winner of the prestigious award "2016 Best Staffing Firms to Work For®". Optomi's first award occurred in its first year of business. Having been recognized all subsequent years, Optomi is unique in achieving this status.
"We believe corporate culture has a strong influence on a company's performance. We foster an environment that allows our team to perform at their highest level. No matter how large Optomi becomes, we are committed to growing an organization worthy of the distinction 'The Best Staffing Firms to Work For® every year", says Michael Winwood, Optomi's CEO.
Nearly 182 staffing firms took part in the survey given on behalf of Staffing Industry Analysts by an independent research firm specializing in employee engagement. Internal employees at each firm were asked to complete a 40-question online survey that measured 10 key engagement categories including teamwork, trust in senior leaders, feeling valued, manager effectiveness, compensation and benefits.
Optomi's company culture is one that was carefully designed and implemented. Its core values encourage every employee's business interaction with clients and candidates to be described as: passionate, dedicated, innovative, unique, connected and genuine. The firm is focused on an organic growth model, hiring exceptional talent and promoting top performers into leadership positions. Optomi is regularly expanding to incremental new markets. The company's current markets include Atlanta, Chicago, Dallas, Detroit, Orange County, Baltimore/DC and most recently Charlotte.
"We attribute our growth to a strong company
culture
that values passion, innovation and dedication among others", says COO Todd Black. "We're genuine in our relationships and that's a unique way to do business in this industry."
"The Best Staffing Firms to Work For®" program recognizes staffing firms that understand the importance of a supportive working environment with opportunities for personal and professional growth that encourages an individual to bring passion and energy to the office each and every day." said Barry Asin, president of Staffing Industry Analysts.
ABOUT OPTOMI, LLC
"DRIVING TOMORROW'S TECHNOLOGY WITH TODAY'S OPTIMUM TALENT."
Optomi is inspired by: optimum…being the best…the ultimate. We are a tech staffing firm with a unique approach. Optomi has developed fresh philosophies as cutting-edge as the technology we represent. With a revolutionary consultant-focused approach, Optomi is completely dedicated to genuinely serving its consultants, clients and employees. By utilizing innovative technologies and developing industry leading recruitment processes, we are able to deploy the best project managers, business analysts and technologists in the ever evolving spaces of mobile technology, information security, network engineering, business intelligence, cloud and application development…making us a leader in the IT staffing world.
Optomi was awarded one of the Best Staffing Firms to Work For® by Staffing Industry Analysts in 2014, 2015 and 2016… accomplishments rarely achieved by a company in its first year of business let alone consecutively for three years. Optomi's COO, Todd Black, was a 2015 Finalist for the prestigious EY Entrepreneur of the Year® award. Optomi received three American Business Awards for the Fastest Growing Company of the Year, Best Management Team of the Year and Best Website Home/Welcome page. Optomi has recently been recognized as a 101 Best and Brightest Company to Work for. The privately held firm is trending to be one of the fastest growing companies in America.