"Official" Presidential Eligibility Tool Determines Rubio, Cruz and Anyone Else's Eligibility to Run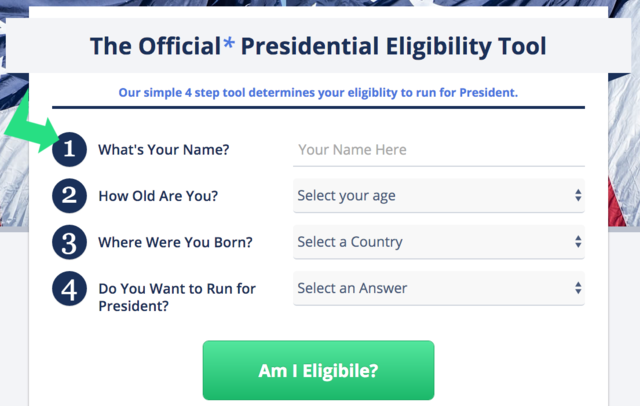 February 25, 2016 - With lawsuits being filed and seemingly endless debate being held on whether Republican candidates Marco Rubio and Ted Cruz are eligible to hold the office of President of the United States, online source
Eligibility.com
has released a simple four-step tool to help someone
determine if they do in fact qualify to be President
.
And what are the results? With a clear asterisk as an "official" tool, Eligibility.com weighs in that all the remaining candidates are likely eligible, though not without some self-aware caveats.
Ted Cruz's eligibility clocks in at 50%
, adding "You can try to run, but people are going to argue about it."
Marco Rubio scores a little higher, at 98%
, warning that he's eligible but if the race gets tight "you might find trouble."
Of course, the predominant voice in calling out both Cruz and Rubio's potentially-debatable backgrounds as qualifying "natural born citizens" is front-runner Donald Trump. Where does Trump rate on the Eligibility.com tool? A cool 120%. Yes, Trump is over-eligible.
The other side of the aisle makes the results with both Hillary Clinton and Bernie Sanders earning 100% scores on the eligibility scale. Sanders, though, is encouraged to run because "there is no upper-age limit."
The tool is interactive and can be completed by anyone interested in confirming their own eligibility to head to the primaries and beyond. All you need to enter is a name, age, country of birth, and if you desire to run for President or not (for these purposes, of course!)
In just 48 hours, over 10,000 people have tested their results on this humorous take on a very loud, ongoing debate amongst the candidates and in the mainstream media.
Ready to give it a shot? Visit
www.Eligibility.com/Tools