Global Jet Capital Shares Their Survey Results on the Future of Business Travel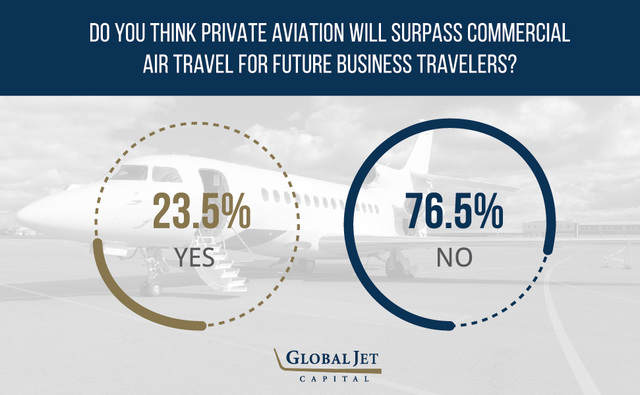 February 26, 2016 - In a recent survey of 1,000 Americans, the Global Jet Capital team has learned that nearly a quarter of the country believes private aviation will one day surpass commercial air travel in business travel popularity. Slightly over 23 percent of those surveyed responded favorably when questioned whether or not they thought private aviation usage would surpass commercial airfare for future business travelers.
Their feelings seem to be in line with current market trends as well. According to their latest market research reports, 'Global Business Jets Market 2015' and 'Global Business Jet Market 2015-2019, RnRMarketResearch.com has predicted that the business jet market will eclipse $33 billion by 2020 in the United States while growing at a rate of 6.86% Compound Annual Growth Rate (CAGR).
Leading the way in their feelings that private jets will one day outrank commercial air travel for businesses is the youngest generations of survey respondents. Thirty-four percent of survey participants between the ages of 18 and 24 and a quarter of participants between the ages of 25 and 34 did feel that private aviation was on pace to surpass commercial air travel for business trips.
Rather than facing crowded airport terminals, uncomfortable seating situations and headache-inducing delays, a private business jet offers flexibility and control for getting from point A to point B. In recent years, more companies are seeing the benefits as aircraft acquisition has become much easier thanks to private jet lending and leasing options.
Private jet leasing provides your organization with flexibility and options to fit your budgetary needs. Under the terms of a private jet operating lease, the lessee is granted use of an aircraft in exchange for a down payment and a fixed monthly fee. Thanks in part to these certain cost conditions, more businesses are taking advantage of the competitive edge gained by use of a private aircraft.
With private jet travel on your side, your organization can open new sales channels that were never before possible, all while keeping your team productive and connected as they make their way from destinations around the globe.
For a closer look at the benefits of private air travel and further analysis of the survey results, please visit
http://blog.globaljetcapital.com/predicting-the-future-of-business-travel
.
About Global Jet Capital
Global Jet Capital is a financial services company providing financing solutions for the private aircraft market. The business is capitalized by world-class private investors with expertise in the global aviation industry: GSO Capital Partners, a Blackstone company, in partnership with Franklin Square Capital Partners, The Carlyle Group and AE Industrial Partners. We offer a management team with expertise in financing, asset management, acquisition, marketing, lease administration and product support that understands the intricacies of the private aircraft market. Global Jet Capital serves virtually all jurisdictions and has the capital and expertise to meet the needs of the global private aircraft market, with flexibility and speed. For more information, please visit
www.globaljetcapital.com
.