Boost E-Store Performance with Top-Notch Magento 2 Template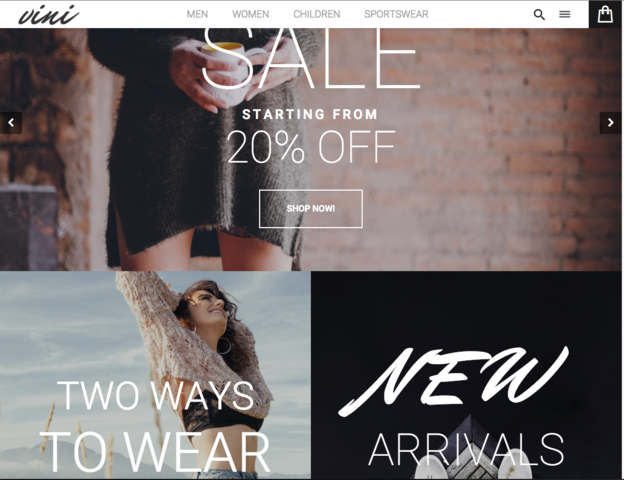 Brooklyn, New York, March 3, 2016 - TemplateMonster is proud to present
Vini, a Magento 2 template
with tons of advanced features. Thanks to the new technological stack, Vini helps online merchants boost conversions by up to 30% and ensure engaging and rich user experience on desktop and mobile. The new template is speedy, scalable, fully responsive.
While crafting this theme, TemplateMonster team have been focusing on performance improvements which is why Vini Magento 2 is exceptionally fast. The measured page load time for home, category, and product pages is <1.5 sec. per page on first view and <0.75 sec. for cached pages. More exciting news: Vini has an intuitive and fast (< 1.9 seconds per step) checkout process, so you can convert more sales.
Under the hood of this template is a customized Magento Framework refined by the TemplateMonster team of developers. This Framework uses the next-generation architecture that offers up to 30% faster performance and unmatched flexibility.
When it comes to scalability, Vini
Magento 2
supports up to 3.5 million pageviews per hour and more than 250,00 orders per hour to help e-store owners handle the busiest days. The template delivers better shopping experience by optimizing JavaScript performance, compressing images, and integrating Varnish cache for faster page loads. Naturally, this template has a number of SEO friendly features to ensure the rapid growth of your online store.
To make things simple for entrepreneurs and e-store owners, we have included a number of useful features into the Vini template. Here are some of these features:
Ajax Wishlist, Compare, and Filter - for immediate response
Mega-menu with photos
Configurable swatches
Image slider
Sticky header
Improved Layered Navigation
Extended Product Grid with Editor
Color Swatches Pro
new UI and back-end interface.
Vini Magento 2 uses a number of thoroughly tested UX and UI solutions, as well as simple and effective product-oriented design to deliver great user experience for online shoppers. We've also conducted a series of A/B testing experiments for product pages, catalog pages, the grid structure, and even the footer and other sections on dozens of websites to provide merchants with a reliable working solution that helps them sell right out of the box.
"Magento is among the world's most popular eCommerce platforms, and we know there are lots of Magento merchants out there. It is natural that most of them want to upgrade to Magento's latest version and run their business more efficiently. That's why our developers and designers teams worked hard to bring you this Vini Magento 2 template with simple and effective design, better performance, greater scalability, and structured architecture", noted
Demetrio Fortman, the COO of TemplateMonster
.