Levaquin Lawsuit News: Federal Fluoroquinolone Litigation Convenes Conference, Issues Third Pretrial Order, Bernstein Liebhard LLP Reports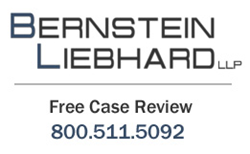 March 7, 2016 - The federal litigation established last year for Levaquin lawsuits (
http://www.rxinjuryhelp.com/levaquin/lawsuit/
) and other fluoroquinolone claims involving peripheral neuropathy continues to move forward in the U.S. District Court, District of Minnesota. According to court documents, the proceeding's most recent Status Conference was convened on February 24th, at which time it was reported that 425 cases have been filed in the multidistrict litigation, including 289 involving Johnson & Johnson, the manufacturer of Levaquin; 136 related to Bayer, which markets Avelox and Cipro; and 58 that pertain to both companies. A number of cases have also been filed in state courts, including 1 each in California and New Jersey, as well as 28 in Pennsylvania. In addition, there are currently six complaints involving 325 Plaintiffs pending in Oklahoma , all of which will be removed to federal court and transferred to the District of Minnesota. (In Re: Fluoroquinolone Products Liability Litigation – MDL No. 2642)
On March 1, 2016, the federal litigation issued its third
Pretrial Order
,which set forth procedures for the use of Master Pleadings. Among other things, the Order stipulates that the Plaintiffs' Steering Committee must file a Master Complaint with the Court by April 14, 2016. Any Plaintiff with a case pending in the multidistrict litigation as of that date must file a Short Form Complaint by May 14, 2016.
"Our Firm has heard from a number of individuals who allegedly suffered permanent nerve damage due to their use of a fluoroquinolone antibiotic, and we are not surprised that the federal litigation has grown to include more than 400 cases. The Court's decision to allow the use of Mater Pleadings will allow these proceedings to move forward more efficiently," says Sandy A. Liebhard LLP, a partner at Bernstein Liebhard LLP, a nationwide law firm representing victims of defective drugs and medical devices. The Firm is offering free, no-obligation Levaquin lawsuit reviews to patients who were diagnosed with peripheral neuropathy that could be associated with the use of a fluoroquinolone antibiotic.
Fluoroquinolone Antibiotics and Peripheral Neuropathy
Peripheral neuropathy is a form of permanent nerve damage that affects the nerves responsible for sending sensory information back to the brain and spinal cord. The condition was first noted on the labeling for fluoroquinolone antibiotics in 2004. However, in August 2013, the
U.S. Food & Drug Administration (FDA)
ordered fluoroquinolone manufacturers to modify their product labels to warn that peripheral neuropathy may occur soon after these drugs are taken and may be permanent.
The multidistrict litigation underway in Minnesota was established last July to allow federally-filed cases involving Levaquin, Cipro and Avelox to undergo coordinated pretrial proceedings. Plaintiffs who have cases pending in the District of Minnesota accuse the drug's manufacturers of failing to adequately warn doctors and patients about the potential for serious nerve damage and peripheral neuropathy. They further assert that they could have avoided these debilitating complications had better warnings been available.
Patients who developed permanent peripheral neuropathy that may be related to the use of a fluoroquinolone antibiotic could be entitled to compensation for medical bills, lost wages, pain and suffering, and more.
To learn more,
please visit Bernstein Liebhard LLP's website. Free, no-obligation legal consultations can also be obtained by calling 800-511-5092.
About Bernstein Liebhard LLP
Bernstein Liebhard LLP is a New York-based law firm exclusively representing injured persons in complex individual and class action lawsuits nationwide since 1993. As a national law firm, Bernstein Liebhard LLP possesses all of the legal and financial resources required to successfully challenge billion dollar pharmaceutical and medical device companies. As a result, our attorneys and legal staff have been able to recover more than $3.5 billion on behalf of our clients. The Firm was named by The National Law Journal to the Plaintiffs' Hot List, recognizing the top plaintiffs firms in the country, for 12 consecutive years. Bernstein Liebhard LLP is the only firm in the country to be named to this prestigious list for a dozen consecutive years.
Bernstein Liebhard LLP
10 East 40th Street
New York, New York 10016
800-511-5092
ATTORNEY ADVERTISING. © 2016 Bernstein Liebhard LLP. The law firm responsible for this advertisement is Bernstein Liebhard LLP, 10 East 40th Street, New York, New York 10016, 800-511-5092. Prior results do not guarantee or predict a similar outcome with respect to any future matter.
Contact Information:
Sandy A. Liebhard, Esq.
Bernstein Liebhard LLP
info(at)consumerinjurylawyers(dot)com
http://www.rxinjuryhelp.com/news/
https://plus.google.com/115936073311125306742?rel=author