Choose Perfectly Fitted Specialized EMR Software with Help from Net Health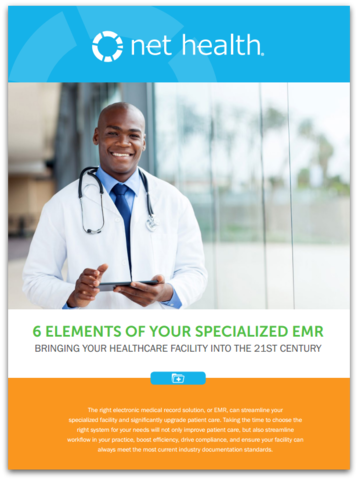 March 8, 2016 - Healthcare facility decision-makers know that having the right electronic medical record solution (EMR) on their side can make a significant impact on their operations, care capacity, and compliance. However, many facilities still make mistakes when choosing their platform. Taking your time and choosing the right system for your facility's unique needs can improve patient care, streamline workflow and help you meet all the needs of specialized outpatient facility. Ensuring the right fit in your EMR software will put an end to wasted time, or duplicative efforts, while improving communication and efficiency within your facility.
So how do you go about finding the system that works right for you? Net Health suggests starting your search by listing your facility's unique requirements. Take the time to map out your workflow from beginning to end, taking note of what documentation is involved, who interacts with the patient, how supplies are managed, and how billing and reimbursements are processed. Then, determine which functions you want your software to be able to handle. Once you have a list of the core features your specialized software needs to manage, it's time to start shopping.
Start your search for the right EMR solution by looking at those designed for your medical specialty-it makes a huge difference. Specialized EMR software supports the narrow scope of your facility's practice, requiring fewer customizations out of the box, and offers workflows that makes sense for your sector's documentation and compliance needs. No matter the system you choose, make sure it drives both your clinical and operational requirements.
Even if an EMR software solution appears perfect on paper, be sure to see for yourself
how the software's features can meet your specific needs by scheduling a live demo. Getting a first-hand look at any EMR software you're considering will allow you and your team to better assess its capabilities and fit in your facility. Make sure to choose a user-friendly system that is interoperable with any other required health information systems (HIS) with which you share data.
Last, but certainly not least, you'll want to understand an EMR company's client support structure. Make sure they have a proven track record of providing solid support to its customers. Consider things like the ability to get live one-on-one phone support when you want it, versus companies that rely heavily on online documentation communities as a first level of Q&A. Find out if they have a system in place to provide you with regular software updates, security features, an appropriate level of support, and more.
The more time you and your medical team spend researching and selecting an EMR system, the better chance you have that it will meet the specific needs of your facility today and in the future. To find out more, visit
http://rightfit.nhsinc.com/Net-health-specialized-EMR-whitepaper
.
At Net Health, we strongly believe that the right fit makes all the difference. For more information about how Net Health can help you enhance patient wellness, improve outcomes, streamline workflow and strengthen facility results, please visit
www.nethealth.com
.