Landmark Verdict In Johnson & Johnson Talcum Powder Lawsuit After Ovarian Cancer Death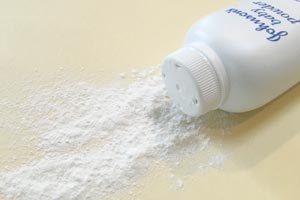 Jury Finds Johnson & Johnson's Shower to Shower, Baby Powder Talc Powder Resulted In Women's Death From Ovarian Cancer Awards $72 Million To Deceased Family
March 13, 2016 - A landmark verdict has been handed down in a
talcum powder lawsuit
involving Johnson & Johnson's Shower to Shower and Baby Powder talc products. According to court documents, the St. Louis, Missouri jury hearing the case delivered a verdict on February 22th, ordering the consumer products company to pay $72 million in damages to the family of woman who died from ovarian cancer after using Shower to Shower and Baby Powder for feminine hygiene purposes for decades. (Case No. 1422-CC09012-01,Circuit Court of the City of St. Louis, Missouri)
"This is the first time a jury has awarded financial damages to the plaintiffs in a talcum powder ovarian cancer lawsuit. In addition to $10 million in compensatory damages, the jury ordered Johnson & Johnson to pay $62 million in punitive damages for its failure to warn women about the dangers of the talc-based products so many have relied on for feminine hygiene," says Dr. François Blaudeau, the founder of Southern Med Law. As both an attorney and a practicing obstetrician/gynecologist, Dr. Blaudeau is only too aware of the devastating toll an ovarian cancer diagnosis can take on victims and their families. His expertise in both women's health and the law has provided him with unique insight into the various legal and medical issues at the center of the growing number of talcum powder lawsuits being filed in U.S. courts against Johnson & Johnson.
Southern Med Law will continue to investigate talcum powder and ovarian cancer claims and urges people who believe they developed cancer due to using Shower to Shower or Baby Powder products to contact one of their attorneys to discuss their legal rights. You can visit
www.southernmedlaw.com
and fill out a contact form or call 1-205-547-5525 today.
Studies linking talcum powder to an increased risk of ovarian cancer date back to 1971, when British researchers analyzed 13 ovarian tumors under a microscope and discovered talc particles in 10 of the tumors. A more recent study published in June 2013 in the Cancer Prevention Research journal found regular use of talcum powder in the genital area could increase a woman's risk of ovarian cancer by 20 to 30 percent.
Court records indicate that Johnson & Johnson is now named a defendant in more than 1,200 talcum powder lawsuits pending in New Jersey and Missouri. In 2013, a federal jury in South Dakota found that regular and repeated use of Johnson's Baby Powder contributed to the development of ovarian cancer in another woman. While that case marked the first time a U.S. jury reached such a finding, the panel declined to award the plaintiff any monetary damages.
The case just decided in Missouri involved a woman who died this past October, just two years after being diagnosed with ovarian cancer. According to her lawsuit, she had used both Shower to Shower and Baby Powder on a regular basis for more than 30 years. Her complaint, like the others pending against Johnson & Johnson, claimed that talcum powder can migrate into the vagina when it is applied to the genital area. Plaintiffs further assert that because it takes years to dissolve, accumulating talc inside the body may result in inflammation, which can contribute to the development of ovarian cancer.
About Southern Med Law and Filing Talcum Powder Ovarian Cancer Lawsuit: Southern Med Law is led by Dr. François Blaudeau, an attorney and a practicing obstetrician/ gynecologist that is determined to stop the large manufacturers of personal health products and medical devices from injuring more women. The legal staff at Southern Med Law is an experienced group of attorneys who possess a deep understanding of the complex medical and legal questions at issue in all manner of product liability and personal injury claims. They are not afraid to take on the nation's largest corporations in their pursuit of justice, and are committed to ensuring that all victims have access to the type of aggressive legal advocacy that assures success.
Southern Med Law
François M. Blaudeau, MD JD FACHE FCLM Esquire
2224 1st Avenue North
Birmingham, Alabama 35203
Phone: (205) 547-5525
Cell: (205) 515-6166
Fax: (205) 547-5526
francois@southernmedlaw.com
www.southernmedlaw.com
Medical Negligence/MedicalDevice/Pharma/Qui Tam
Like us on
Facebook
Follow us on
Twitter
Join us on
Google+
Pin with us on
Pinterest