Zofran Lawsuit Filings Surpass 200, as Federal Birth Defects Litigation Prepares to Convene March Status Conference, Bernstein Liebhard LLP Reports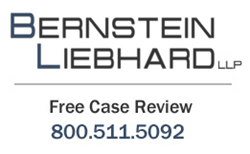 March 14, 2016 - The Zofran birth defects (
http://www.rxinjuryhelp.com/zofran/birth-defects/
) litigation now underway in the U.S. District Court, District of Massachusetts, continues to move forward. According to a Statistics Report issued by the U.S. Judicial Panel on Multidistrict Litigation on February 16th, at least 223 Zofran lawsuits are now pending in the proceeding. All of the cases were filed on behalf of children who were born with major birth defects, allegedly due to their mother's use of the anti-nausea drug in the first trimester of pregnancy. The litigation is set to convene its next Status Conference on March 17, at 1:30 p.m. (In Re Zofran Products Liability Litigation – MDL 2657)
"Our Firm regularly receives inquiries from families who believe pre-natal Zofran exposure played some role in their child's development of a major birth defect. We are pleased that the litigation is progressing, and look forward to this week's conference," says Sandy A. Liebhard, a partner at Bernstein Liebhard LLP, a nationwide law firm representing victims of defective drugs and medical devices. The Firm continues to offer free legal reviews to families whose children may have been harmed by Zofran.
Zofran Birth Defects Allegations
Zofran (ondansetron) is a prescription medication marketed by GlaxoSmithKline that has been approved to treat nausea and vomiting experienced by chemotherapy and surgical patients. While it has never been approved to treat gastric distress related to pregnancy, Zofran lawsuit plaintiffs claim that the drug is widely prescribed for this purpose. The complaints point out that in 2012, GlaxoSmithKline agreed to pay $3 billion to resolve illegal marketing charges with the U.S. Department of Justice that involved a number of its medications. Among other things, the company had been accused of illegally promoting Zofran as an off-label treatment for expectant mothers suffering from pregnancy-related nausea and vomiting.
Zofran lawsuit plaintiffs further allege that as early as 2006, studies have suggested that the medication could harm a developing fetus, as the drug crosses the placenta in significant amounts when taken by pregnant women. Plaintiffs accuse Glaxo of concealing information tying Zofran to birth defects, and assert that since 1992, the company has received more than 200 reports of abnormalities occurring in children who were exposed to Zofran during early pregnancy.
Children born with birth defects that could be related to mother's use of Zofran during the first trimester of pregnancy may be entitled to compensation from GlaxoSmithKline.
To find out
more about available legal options, please visit Bernstein Liebhard LLP's website, or call the Firm directly at 800-511-5092.
About Bernstein Liebhard LLP
Bernstein Liebhard LLP is a New York-based law firm exclusively representing injured persons in complex individual and class action lawsuits nationwide since 1993. As a national law firm, Bernstein Liebhard LLP possesses all of the legal and financial resources required to successfully challenge billion dollar pharmaceutical and medical device companies. As a result, our attorneys and legal staff have been able to recover more than $3.5 billion on behalf of our clients. The Firm was named by The National Law Journal to the Plaintiffs' Hot List, recognizing the top plaintiffs firms in the country, for 12 consecutive years. Bernstein Liebhard LLP is the only firm in the country to be named to this prestigious list for a dozen consecutive years.
Bernstein Liebhard LLP
10 East 40th Street
New York, New York 10016
800-511-5092
ATTORNEY ADVERTISING. © 2016 Bernstein Liebhard LLP. The law firm responsible for this advertisement is Bernstein Liebhard LLP, 10 East 40th Street, New York, New York 10016, 800-511-5092. Prior results do not guarantee or predict a similar outcome with respect to any future matter.
Contact Information:
Sandy A. Liebhard, Esq.
Bernstein Liebhard LLP
info (at)consumerinjurylawyers(dot)com
http://www.rxinjuryhelp.com/
https://plus.google.com/115936073311125306742?rel=author