Bonita Naples Real Estate Launches New & Improved Website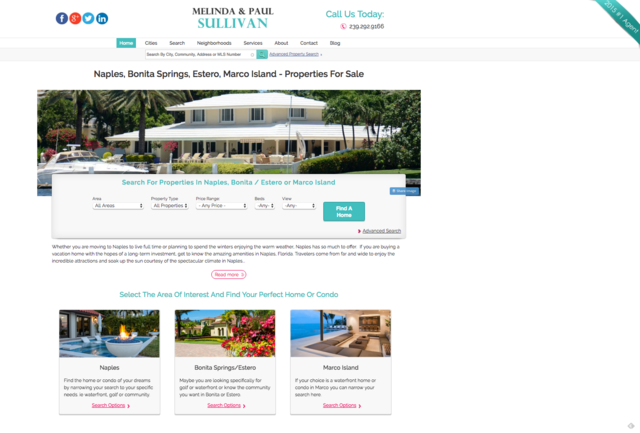 March 16, 2016 - Melinda and Paul Sullivan, Realtors with Domain Realty, recently launched a new, redesigned website
www.BonitaNaplesRealEstate.com
that has quickly become the best resource online for people in the market to buy or sell property in the Southwest Florida area. The website offers advanced search features and a comprehensive database of properties ranging in price and location throughout Naples, Bonita Springs, Estero and Marco Island.
"Our goal is to couple this great online website, that includes the most comprehensive information on local communities and homes, with our real estate expertise to offer clients the best real estate experience possible, whether they are looking to buy or sell property," said Melinda Sullivan, Lead Realtor.
An Easier-to-Navigate Home Page
When a visitor first lands on the homepage, they can immediately take advantage of the enhanced search features by using the "Quick Search" menu to find homes or condos in the area.
"If they want to refine their search, all they have to do is click on the 'Advanced Search' link to see their expanded selections," said Sullivan.
Enhanced Photography
In the real estate industry, imagery is everything, especially for someone considering a property from miles away. If they are not able to easily visit and see the property in person, then they have to rely on photographic images online before deciding if they want to inquire about the property.
"Big beautiful photos are the best way to look at a property online, so we enlarged all of our property photos so buyers and sellers can get the best view of all the properties they may be interested in," said Sullivan.
"Our website is very beneficial to buyers because it has one of the most comprehensive lists of local neighborhoods and communities out there. In addition, each of the properties for sale list all of the important information about the community, including fees, pet rules, community features and more. There is also a 'Favorites' feature where visitors browsing the site can save their favorite properties for quick reference when they return to the website. Sellers benefit from it too because we highlight their properties on our home page and offer additional information in the form of a blog article to give potential buyers more in-depth information about a property they are considering," said Sullivan.
Search for Properties by Neighborhood and City
The most popular page on the website is the Neighborhoods page so it was reorganized to best suit the needs of the end user.
"Our new Neighborhoods page was developed with our clients in mind. We did our best to organize it to make their search as easy as possible," said Sullivan. "It includes one of the most comprehensive lists of neighborhoods available in the Southwest Florida area."
The website also breaks down local neighborhoods or communities by city, including Naples, Bonita Springs, Estero and Marco Island. The most popular neighborhoods in each city are listed on their respective community page. You can click on a local community button to go to a sub-page that provides more detailed information about that particular neighborhood or community.
Community listings are also grouped according to whether they include golf, waterfront, new construction, homes and/or condos. The new website also makes it easier to search by cities. Visitors can click on Naples, Bonita/Estero or Marco Island and easily search those areas for "homes", "condos", "waterfront homes", "waterfront condos", "all communities", "golf communities" and "new construction".
Download E-Guides to Get Answers to Questions
As an additional resource to the website, the Sullivan Realty Team put together various E-Guides that answer some of the most common questions buyers and sellers have when considering properties.
These guides provide instruction on the following:
How to Price Your Home for Sale
How to Prepare Your Home for Photos
How to Prepare Your Home for Showings
How to Prepare Your Home to Sell
Naples Pet Friendly Neighborhoods
"We think technology is important, not just to compete in a world where over 90% of home buyers search for properties online, but because it has the power to offer our buyers and sellers a better real estate experience," said Sullivan. "That's why we continually strive to keep our website up-to-date by enhancing it with the latest search capabilities, a fresh and user-friendly design and the most comprehensive information about buying and selling real estate in the form of content offers."
To experience all of the new online features, visit
www.bonitanaplesrealestate.com
About Melinda and Paul Sullivan
The Sullivan Team is a full service, technology-driven real estate team made up of full-time, experienced real estate professionals who demonstrate a commitment to outstanding customer service, personal integrity and sales success. Led by Melinda & Paul Sullivan, top producing agents who have been in the top 5% for almost a decade, the Sullivan Team serves buyers and sellers all over the Southwest Florida area including Naples, Bonita Springs, Estero and Marco Island.
Email Bonita Naples Real Estate